***Edited at bottom***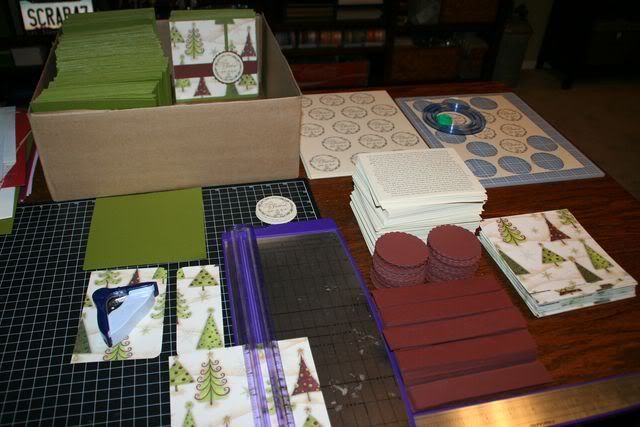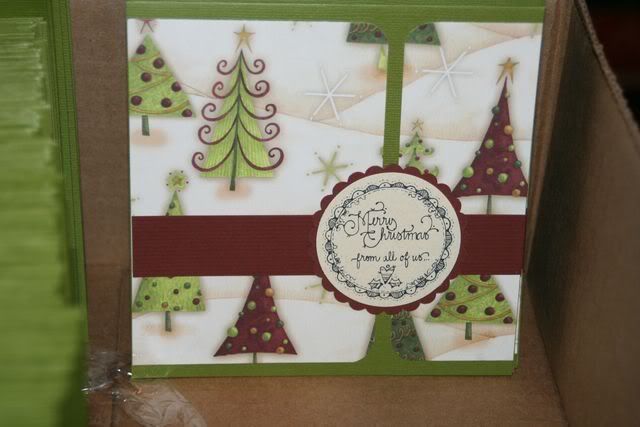 The Christmas card making process is well under way. I work on them in my spare minutes, which is few these days. I worked for several hours tonight since these pictures were taken yesterday. I think I now have a total of 98 done out of 300. That is just the front and the message on the inside. I still don't have my pictures ordered yet. I hope to get that done at some point this weekend. (maybe) The ones in the box on the left are not done. Those are just the cardstock that is cut and folded. Let me just say that punching out 300 scalloped circles and cutting 300 smaller circles is not at the top of my list of fun things to do. Still have lots to cut! It's seriously crazy around here. I'll give you a little bit of my agenda for the past couple of days and the few days coming.
Tuesday...normal busy stuff around the house, pick up boys early from school so I can get to my endodontist appointment and get them to a birthday party in town. Huge traffic problem in Maricopa. Literally couldn't get out of town. I had to do some off roading to find a short cut so that I could back track to the town in the opposite direction because that was the only way out of here. It took 2 hours and 10 minutes to drive what normally takes 45 minutes. UGG! Drop my kids off, go finish up my root canal. so not fun!, pick up the rest of my Christmas card paper that was on back order, pick up the boys, drive home LATE!
Today...had a turkey delivered to me that I'm suppose to cook tomorrow for a church dinner the youth are serving at. Problem is it's a 24 pound frozen solid bird that would normally take at least 4 days to defrost. I don't have time to deal with it because I have to get Cole to town to fill his teeny cavity. They also decide to clean his teeth while we are there. We run to walmart because living out in Maricopa I rarely get to go to walmart and we are out of important things like toilet paper, paper towels, deodorant, boys shampoo, cereal etc. Then we go to home depot to buy some wood for some projects I'm working on for young women. Their saw is broken and my saw wont cut fat wood. Sigh! We go to Brek and Brittany's so baby Mark could get a Priesthood blessing from his grandpa's because he's getting circumcised in the morning. He didn't get it done when he was born because of all the problems he had at birth. Poor guy is not going to be a happy camper. Mark gives me checks to deposit. The banks in Mesa are closed so I high tail it back to Maricopa and get my deposit in just before 7:00. whew! We buy pizza for dinner, I try to figure out how to defrost a turkey FAST! Currently it's taking a cold bath in my sink that needs to have it's water changed frequently. It should take 12 hours or so to be ready for the oven. My friend Nicole comes over and keeps me company while I do dishes and work on cards.
Tomorrow (Thursday)... Need to cook a turkey that I pray will be defrosted safely, my visiting teachers are coming over in the morning, I still need to go to town to a home depot who's saw is working. Be at the Church by 5:00 with a bird that better be juicy and delicious and help the youth serve dinner and clean up.
Friday...need to prepare my lesson, make handouts, finish bishops project, get my boys to youth conference. Go on a date with my hubby!
Saturday...get Cole to his primary program rehursal/party, go to youth conference in casa grande...helping with the lunch, dinner and supervising the dance. Come home and fall in bed
Sunday...go to church, teach my lesson, come home, make lunch, decided which of the 3 things that are on my calender that I can actually attend that night. Still not sure which one it will be. All are important.
Monday...perhaps I will not even get out of bed! hee...hee...

So many things to do....all good things, so it's okay! :o)

There will be typos in this post. Too tired to care or fix them. Off to bed! Hugs to all!
****Edited to respond to an anonymous comment****
I DO enjoy making my Christmas cards every year. I only said I didn't enjoy the circle punching part. I don't think those punches were meant to cut 300 times. It was really difficult at the end with the scalloped punch...even for Mark to do. My other circle punch has been really stiff so we had to use the CM circle cutter, which is easy to use when doing a few, but in large quantities, it is a little painful. If I didn't enjoy making cards I wouldn't make them. I also don't do it in hopes to receive cards from others because I only receive a small percentage of what I mail out. I'm not saying I don't like getting them, because I really do. They always make me smile and I proudly display them, but giving is what makes me happy. To me it's part of sharing the Christmas spirit and love with my friends and family. That is priceless!