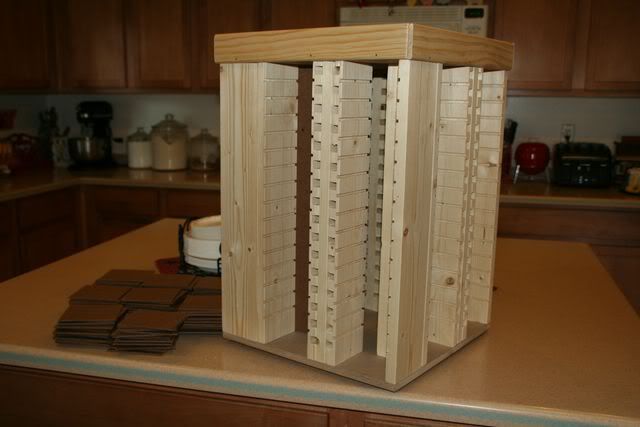 I finally finished all the baby shower invitations and handed them off to my sister in law Carrie who is co-hosting with me. She is going to get them addressed and mailed out. It feels good to be done with those.
Friday afternoon I got a big package delivered. I've been looking for a storage system for my ink pads and found this one on ebay. They had smaller ones, but I liked the feature of the matching marker holder. I don't have the markers yet, but you can bet they will be on my Christmas wish list. :o) This puppy was WAY bigger that I expected. It weighs 38 pounds and holds 128 ink pads ans 128 markers, plus it has an area on top to hold other things. I put my acrylic blocks and stamp cleaner up there. It twirls around very easily which makes it nice when looking for a color. It came in natural pine so I decided to stain it with walnut stain. When the can says to use it in a well ventilated area, I think it's more than just a suggestion. I did it right there on my kitchen counter. Not a good idea. My house stinks so bad and everyone got a little buzz. I know I still have a headache. Looks pretty good even if I fried a few brain cells. I LOVE IT!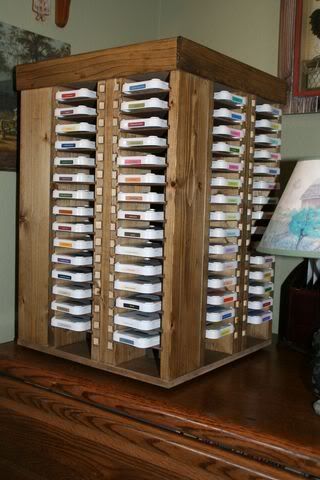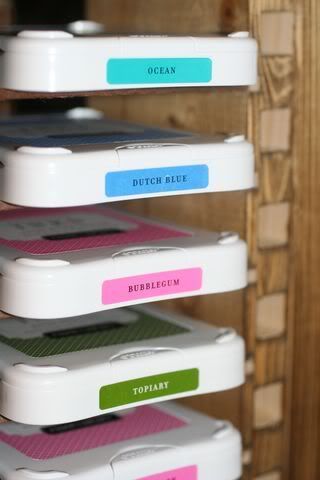 Tonight my sister Julie came over to scrapbook. She got 4 layouts done. I got ONE done! I can't scan it for better viewing because I don't quite understand this new scanner and my computer doesn't recognize my old scanner and I can't find the CD to it. See my problem? These were pictures from the mud football so you already know what they look like anyways. The layout looks way better in person.
I have to teach a lesson in young women's on honesty in 2 weeks. Problem is I can't even get honesty from my own kids. Are mine the only ones that all say "I didn't do it!" or "it wasn't me"? For example, SOMEONE keeps turning down the air conditioner to 60 degrees at night. We wake up to a freezing cold house. I ask each of them if they did it....you guessed it..."no, I didn't do it!"..."it wasn't me" So either we have some issues with honesty or we have a ghost that likes it really really cold. I really want to believe my boys, but the idea of a ghost is not the best option in my mind, so one of them is fibbing. My electric bill is going to be huge!
I hope you all had a wonderful weekend. We really enjoyed ours.