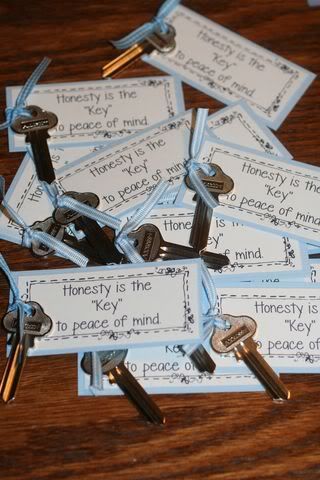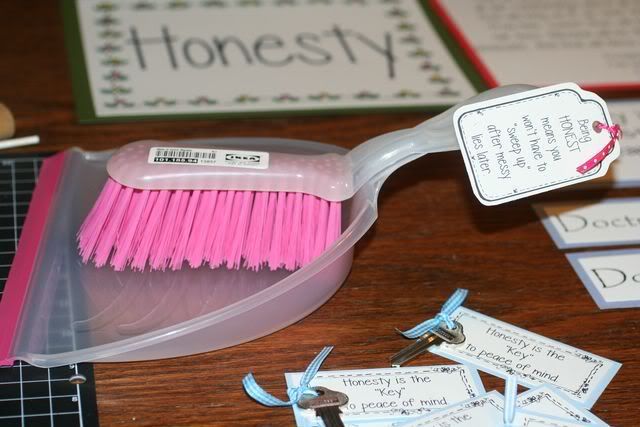 Sunday I taught my first lesson to the young women's. I was scared to death to the point of my stomach hurting because I've never taught anyone older than 3...and I was nervous then too. It was on honesty. It surely didn't flow as easily as I'd hoped, but they complimented me, so I assume they think I did an okay job. I ended up making 2 handouts...normally I would just do one. I bought un-cut keys from Wal-Mart and attached them to tags I made that said "Honesty is the key to peace of mind" The broom and dust pans I bought for a dollar from IKEA. The tag I made says "Being honest means you wont have to sweep up after messy lies later" The girls LOVED the handouts! I don't have to teach again for another month. That lesson is on gratitude and appreciation. You all know how much I love that topic, so I'm pretty excited to teach that one.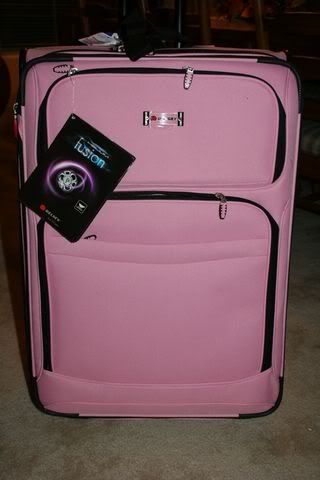 After my chiropractor appointment today I met up with Mark for lunch and a bit of shopping since he had a lull in the middle of his day. Can you believe that after 21 1/2 years of marriage, we have never owned real luggage. We either used duffel bags or borrowed from my parents or sister when we went out of town. Mark got me a big pink one and him a rusty orange one. I remember standing for long periods of time looking for our luggage by the airport carousel in the sea of black and blue luggage, so we decided to get pieces that would stand out so we could find them easier.


We also picked up some silverware because ours had dwindled down to hardly any due to garbage disposal accidents and the use of digging tools in the back yard when the boys were younger. Those of you with sons know what I'm talking about. It will be nice to have a matching set again. :o)

I've been thinking a lot about my catering, so we picked up a few more serving pieces to add to my growing collection. I've done so many catering events for friends and family at no charge....just the cost of food (sometimes I even paid for the food) I'm thinking that maybe I could make some money doing it. I like to cook...people like to eat what I cook. Why not get paid for it...right?

Hat boxes...just because they were cheap and cute! Love them!
Yesterday I made 2 carrot sheet cakes. One for my family and one for a church thing. It's too good not to share the recipe. Don't laugh, but the recipe has baby food carrots in it. It makes the cake so smooth....I don't like chunky carrot cake. When I was really young, a family friend use to make this. I've wanted the recipe ever since. A sweet lady finally shared the recipe and I am so thankful. Here it is.
CARROT CAKE
4 eggs, 2 Cups sugar, 1 1/2 cups vegetable oil, 4 - 4 oz. bottles of baby food strained carrots (scrape bottles well), 2 1/2 Cups flour, 2 tsp. baking soda, 1 tsp. salt, 2 tsp. cinnamon.
Mix all ingredients well in a large bowl. Bake in a large cookie sheet sprayed with cooking spray. Preheat oven to 350 degrees, bake for 25-30 minutes until done in center. Cool, cover with foil then put in freezer. (This portion can be done 2 weeks ahead of time if you like)
Make frosting. Frost frozen. (They freeze very well after frosting too!)
FROSTING
3 1/2 Cups powdered sugar, 1/3 Cup margarine, 1 tsp. vanilla, 8 oz. cream cheese
Cream together softened margarine, cream cheese, and vanilla. Blend in powdered sugar until nice and creamy.
Keep cold in the refridgerator. It taste better cold, but the freezing process adds to it being moist. Cut and serve. Easily serves 30
Before I forget...

someone

unplugged my huge deep freeze that's in the garage. Of course no one in my house did it. Must be the ghost who was messing with the AC a while back. I walked out there and it stunk something terrible. EVERYTHING in it is spoiled. Some of it even oozed out the bottom....I know...gross! I hold my breath everytime I go out there. We plugged back in to re-freeze so we can throw it all away. It was FULL! Such a waste...I hate waste! Going to have to start over again.
Okay...I gotta go. Sorry I haven't been around much. I've been busier than ever. Mark and I are going for a walk. We are trying to get in better shape. Said after giving you a recipe for cake. :o) Hey...carrots ARE a vegetable!