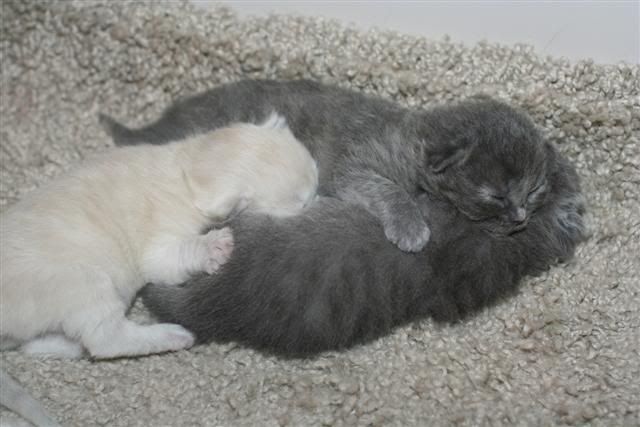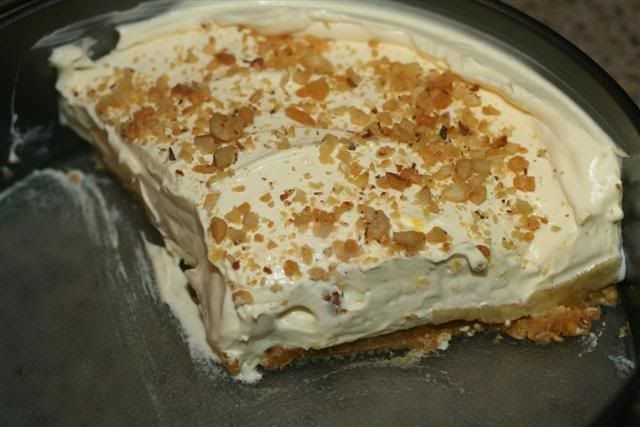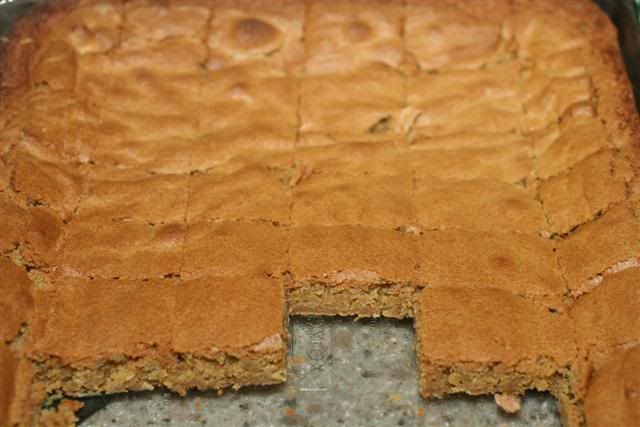 Happy Sunday everyone...well probably by the time you read this it will be Monday, so happy Monday too. I took a picture of the kittens tonight. The are growing so much and beginning to open their eyes. They eat all the time and are getting to be little chubby kittens. The poor runt baby (named Boots) passed away the other night. She was still really small and wasn't eating....even with kitten formula and a teeny bottle. She just wasn't meant to live I guess. I miss her though. Brek and Brittany have named them all. The darker grey one is Patrick, the light grey is Ellie, and the white/cream one is Sugar. I sure love these babies and my eyes are doing better thanks to my good friend Paula hooking me up with some claritin.
Tonight I was in the mood to make chicken cordon bleu lasagna casserole, but it makes such a huge batch that I invited my family over for dinner...well at least the ones in town right now, so my parent and Coleen's family came over. Julie's family is still sticking it out in Tennessee. I keep hoping I can tempt her with food to come back home. You know you want some Julie...I know you LOVE it! :o) I wish it was that easy! Rene's family is still on vacation while we are so blessed to have her near death dog, Lacy. She better hurry home!
Anyways....Not only did I make the very delicious, but not calorie friendly chicken cordon bleu, but I also make spaghetti (because Mark doesn't like alfredo sauce), garlic bread, banana cream supreme and golden bars. It was all so good. Sorry that I took the pictures after everyone had gotten into everything. It's hard not to eat this stuff. Here is the recipe for the casserole. This is the dish I made for a church Christmas party and I had everyone asking me for the recipe. Even the people who did the dishes that night cleaned the pan with their fingers. They crack me up! I'm not great at everything, but cooking I CAN DO! If any of you want the other recipes, I will post them too.
Chicken Cordon Bleu Lasagna Casserole
Lasagna noodles or 2 boxes of bow tie noodles
(I prefer bow tie noodles-it's easier to make and serve)
2 cups cooked diced chicken
2 cups diced ham
2 jars of alfredo sauce or homemade
(I make homemade because jar is nasty)
2 eggs (beaten)
1 container of ricotta cheese
1 container of cottage cheese
1-6oz container of good shredded parmesan cheese (1 1/2 cup)
3 cups of shredded mozzarella cheese
2 cups of shredded swiss cheese
1/2 cup parsley (I don't use this)
I don't really measure the cheese. I just grate up a block of mozzarella and swiss and use it all.
Boil 4 boneless chicken breasts, dice up and put in a large bowl, season cooked chicken with salt pepper, lawreys seasoned salt, onion powder, garlic powder, dice up ham and add to the chicken.
In another bowl, beat 2 eggs, add ricotta cheese, cottage cheese, parmesan cheese, parsley. mix well.
If you are brave enough to use the yucky jar alfredo, put it in the chicken/ham mixture. If you want it to actually taste good than make my alfredo sauce. Start it when you start boiling the chicken.
Alfredo Sauce
1 quart heavy whipping cream
2 sticks butter
4 Tbsp. cream cheese
2 tsp. garlic powder
1-6 oz container of good parmesan cheese
(1 1/2 cup)
salt and pepper to taste
Simmer butter, heavy cream, cream cheese. Add parmesan cheese, garlic powder, salt and pepper. Stir until it's nice and creamy. Simmer 15 to 20 minutes.
NOTE* when making the alfredo sauce for this casserole I add a cup of milk to it to make sure it has enough moisture, but not if you are just making it for fettuchini.
Boil noodles until slightly tender because they will cook longer in the oven.
If you are doing lasagna noodles than just layer up the noodles, cheese mixtures, meat/sauce mixture, shredded mozzarella and swiss cheeses.
If you are doing bow ties then mix everything together in a large bow reserving some of the mozzarella and swiss cheese to sprinkle on top. Salt and pepper the top, cover with foil, bake at 350 for 1 hour. Remove foil half way through cooking. Cook until bubbly. Sooo good! Honest!