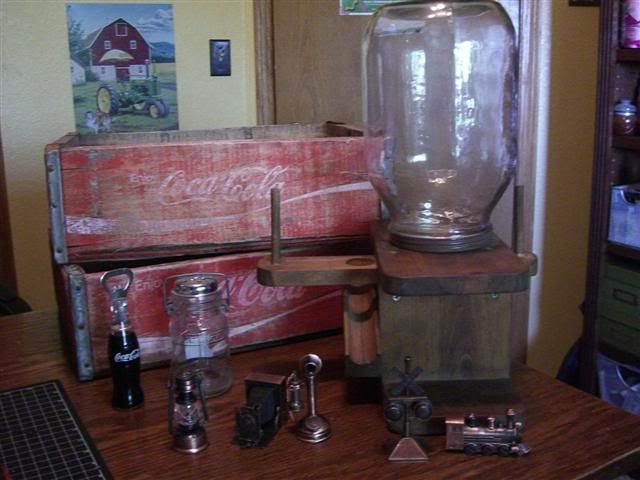 Today I went to a book signing at the cutest little scrapbook store called Mystic Papers in downtown Mesa. It's a real old building on Main Street that has so much charm. I took a picture of what I got from their. I know what you're thinking...more prima flowers! I just can't help myself. I love them. I got to meet Tena Sprenger and Carol Wingert. Such nice women! I really liked them so much. I blinked in the picture...dangit! For those of you that haven't gotten their book Artful Memories yet, let me tell you that it is wonderful! I love that it's not just scrapbook pages, it has beautiful art projects too, with instructions. How cool is that? Really great book!
Next door (actually connected) to Mystic Papers is a very cool antique store. I got some fun things there and plan to go back to both stores when I have more time to browse. I had to get the candy dispenser because my childhood best friend Jenny Reed had one in her house and it brought back so many memories.
If you want to check out Carol, Tena or Mystic papers click on the links on the right.
Back to work on my scrap mess! Trying to clean and de-clutter today. It's too messy to even scrap in here right now.