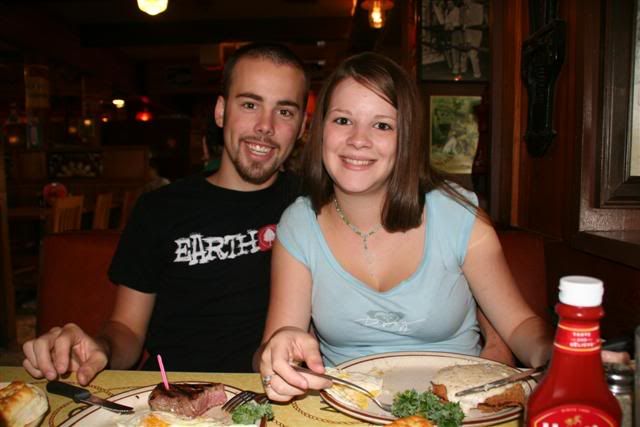 We went this morning for Brittany's ultrasound and there hasn't been a noticable change to the intestines, so that is great news in my book. We go back next Thursday for another one. Hopefully I will be feeling well enough to go since my biopsy is Wednesday. I did fill my perscription for that and picked up my mammogram films to take with me to the hospital. After the ultrasound, I took Brek and Brittany to Bill Johnsons Big Apple for breakfast. We wanted to celebrate that the baby didn't get any worse. It was really good! I so love their hash browns. I ran a ton of errands during the day and COMPLETELY FINISHED the baby shower invitations, stamps, labels and all, so I'm taking it easy tonight in my comfy bed and the remote in hand. :o)
Doesn't Brittany look so darn pretty today?! I just love that girl!...and that boy of mine too!
P.S. See that wet stuff on the ground??? Dude...that's rain! IN Arizona! So loving that!!!
***note to Chris...you're going to be in town for the baby shower!!! I'm so excited!!!!