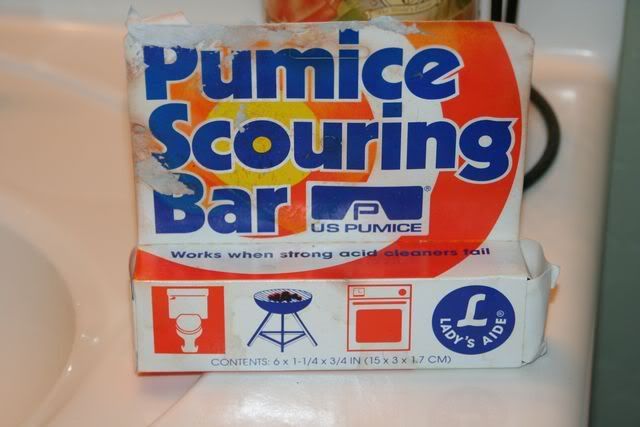 Beep...Beep...Beep!
Interrupting this regularly scheduled program to bring you an important commercial break. A few months ago I bought this pumice scouring bar and I haven't used it until today because I kept forgetting to buy gloves. Anyone who lives in Arizona knows we have hard water and it leaves a real ugly hard water ring in the toilets that makes it look like you never cleaned it when in fact it is and you scrubbed the heck out of it. For some reason I didn't really have this bad of a problem when we lived in Mesa, so Maricopa's water must be really icky. Look at the difference when I was half way done and it didn't take long at all. Its a flippin' miracle!The grinding sound it makes is not pleasant, but the outcome is worth it. I've been needing to clean my filthy house all week, but I've been dealing with some emotional stress lately. I can't clean when I'm sad. It just sucks the life right out of me. However I clean great when I'm mad and a few of my children (which shall remain nameless) have given me all kinds of motivation to clean like a mad woman....Grrrrr...
Pumice stone + gloves + a little elbow grease = one happy girl!
Run...don't walk to the store and get one of these bad boys! Okay...you can drive if you must. So freaking awesome! I love it! love it! love it!
I'll answer crafty questions next. Promise!
What the heck is up with blogger?...My pictures are ginormous and I can't make them small for the life of me. Oh well, I can't deal with it now.
Back to work!