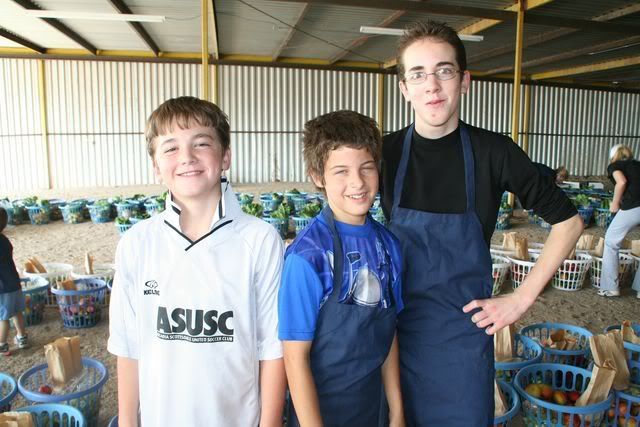 Just look who I wrangled to help me with bountiful baskets on Saturday. Cole, my nephew Jeremy, and Cody. They were actually great help with sorting all the produce. Poor Jeremy has been at our house since Friday. He's getting a little home sick I think, so Mark is taking him home in the morning. Right now they are in the kitchen making sugar cookies...smells pretty good!

Cole went to cub scouts and built a mini candy dispenser like my big one...so cute. First thing he said is "mom, you're gonna wanna get out your camera" He was so anxious that he grabbed it and took his own pictures. He's obviously proud of his work. He also brought home a rocket that we are suppose to make by next weeks pack meeting...no pressure.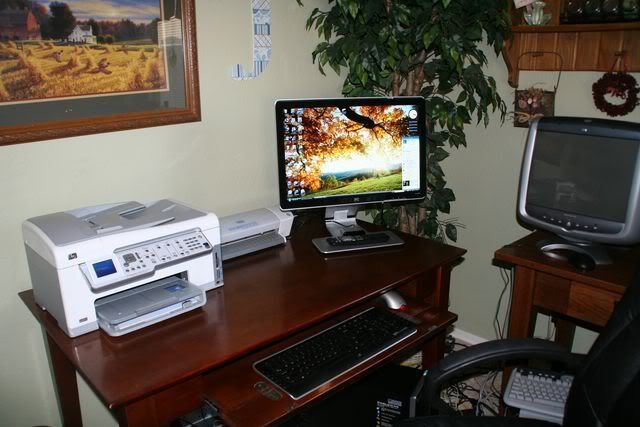 My very smart computer dude came over and got me all hooked up. I appreciate him so much! This windows Vista is a bit different and some programs are not compatible with it because it's so new...like my QK silhouette. QK is suppose to be coming out with drivers soon. Resizing pictures is not as easy as before and the new keyboard is harder to type on. I have way more typo's now. I know there's a lot to get use to, but just look at it!...It's beautiful and I love it!...is it wrong to love a computer, because I do? As you can see in the picture, the old one is still in here because we still have some stuff to transfer over. Soon I will have more room. Next, to try to install my clip art and hope it cooperates.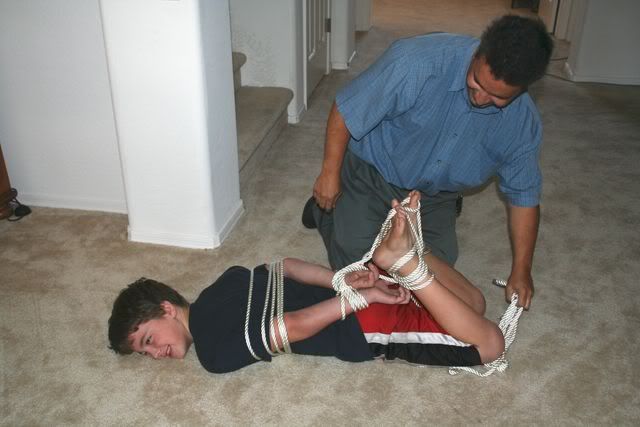 See what happens when boys pester the computer dude too much while he's working. :o)
Get a rope! LOL!
Anyone watch Big Brother? I have watched it every season. For some reason I'm hooked. I just have to say that I hate Jen. She is a wicked mean girl! That's all I've gotta say about that.
Thank you all so much for so many great book recommendations. I could feel your excitement and love of books through your comments and that got me excited too. The first ones I'm going to read are the ones Deanna is so kindly sending me. I'll let ya'll know how it goes.