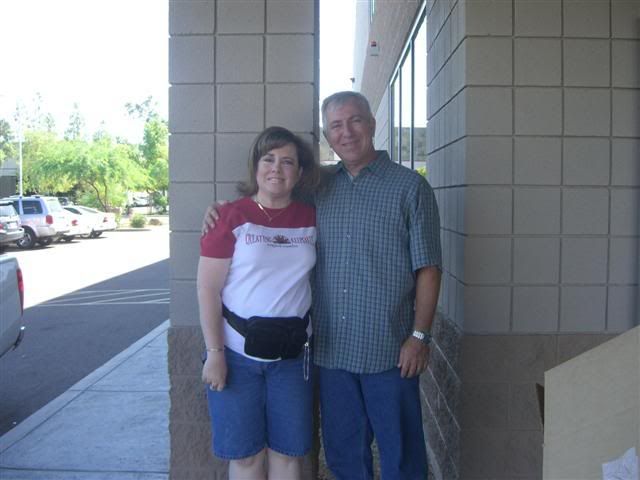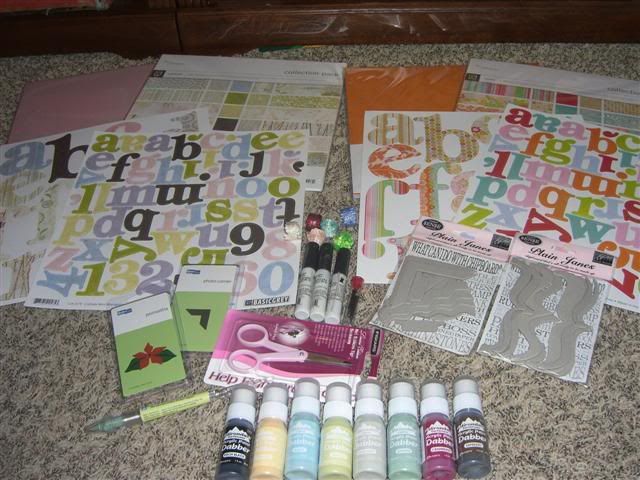 Today was a long day and I'm worn out! I ran up to the Bazzill warehouse sale bright and early this morning. They had boxes to put paper in. You could fill a box of 8 1/2 X 11 for $10 (100 sheets of cardstock) or a box of 12 X 12 for $15....that's cheap! I got all the cardstock for my Christmas cards, envelopes, brads, and bazzinks. I so love a good sale! Still need to get the pattern paper for my cards, but I have to wait until Chatterbox releases it October 12th. While I was there I got my picture taken with the one and only Doug Jones (aka Mr. Bazzill) He's so nice!
Then I picked up my friend Paula and we drove out to Phoenix to go to the CK scrapbook convention to shop the vender fair. We got there and parked in my usual parking garage only to come out and to find that the part of the civic center that normally holds the convention had ben leveled to the ground. That was quite a shock. We had quite a LONG walk to get to where it was...then all the walking in the fair. My whole body hurts! I did run into a good old friend Cathy while we were there. She looked great and it was so good to see her. As for the shopping, I got the new basic grey collections...Lily Kate and Gypsy...So loving those! Then hit the Deluxe Designs booth for some chipboard and ran into Katherine Brooks. Had to get a picture with her. She always looks so cute! During our strolling through the isles I got some pink fiskars scissors (so the boys would quit taking mine), Some of the new paint daubers, a couple of QK shapes, totally tacky glue, and a couple of little things. This is the first year I didn't buy a shirt. I really wanted a bazzill Bling shirt but they only had size 3XL at their sale this morning. Anyways...I'm glad to be home and glad Paula went with me. She was good company plus we got to drive in the carpool lane. :o)
I'd love nothing more than to take a nap, but I need to take Brittany to the hospital so we can spend some time with the baby.