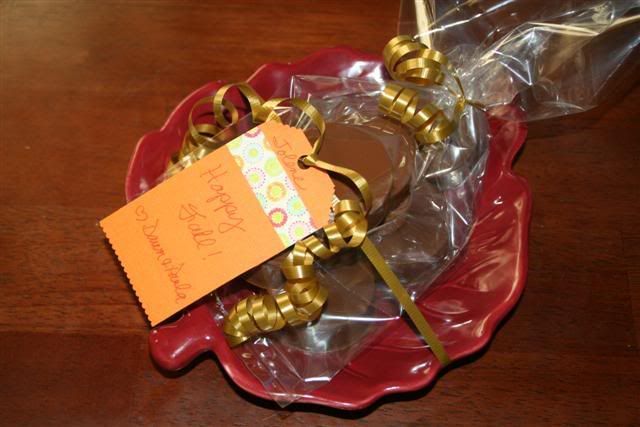 My friends are the best! Dawn and Paula brought me some chocolate covered oreo's on this darling fall leaf plate. I have never had chocolate covered oreo's before, but they are GOOD! I'm going to have to get that mold. A little chocolate can fix any bad day. Thanks girls...you made my day extra special!
Dude!...
Another dirty little secret is out! I was sitting here in my clean scraproom just soaking up how happy I was with my accomplishments, when my dog Pappi came in and laid down on the floor by the closet curtains that kind of puddle on the floor. Sure enough the whole thing came down on top of him. Scared him to death and he ran out of here quick. I just sat there staring at that mess that the lovely red curtains have been been hiding for so many months. Suddenly I didn't feel so good about my room anymore. I promise I didn't tuck anything in there when Icleaned my room. It was all there before. So I started working on the closet Saturday and here we are Monday and it is nowhere near finished. Seriously...it's going to take some time to bail this mess out. There are so many papers that have to be sorted and frankly just a bunch of crap. I've got big plans for this. Okay...not BIG plans...but something that will make me happy. I'll show pictures when I'm done.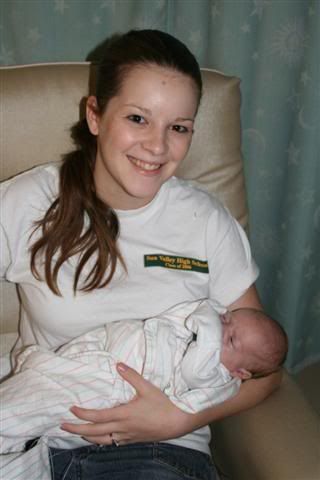 Sunday after church, Mark and I went up to the hospital to see Brittany and baby Mark. This last week she has spent all day everyday with him, so I've only seen her at night. I only got this one picture because he wasn't in the mood for my flash. Still no word on when he gets to come home. He's 7 pounds 11 ounces. He's a tank compared to the 2 and 4 pound babies he's surrounded by. I'll let you know when there is any new news.
Off to work on the dreaded closet. It's kind of depressing right now because it's at the stage where it's gotta get worse before it gets better and the whole room is suffering because of it...sigh...