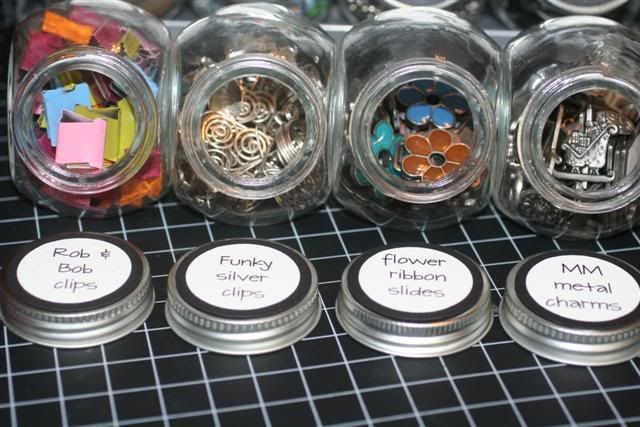 Jen asked me about my metal embellishment rack. It's a spice rack I got at Sam's Club a while back. It twirls around really easy even with how heavy it is. It holds 24 little jars. I've had good intentions to get labels made for them and finally got to do it today. I love it even more and now it's even easier to find what I need. All I did was type and print a list of contents, punch them out with a 1 1/4 inch punch then used a 1 1/2 inch punch to mat them in black, then stuck them over the spice names on the lids....so darn cute! Thank you all for your sweet comments. I'm so glad you all like my scraproom. I'm a little bit OCD when it comes to organizing my supplies. I want it to be easy to find things AND look pretty too. It's a fun room when it's clean. If any of you come to town, you're welcome to come scrapbook with me. It would be so fun!
To answer more questions...Chris...I have no idea how many stamps I have. A LOT! We don't talk about that infront of Mark. It doesn't make him happy. :o) Jen...my house isn't huge...not too little either. It's a 4 bedroom, 3 bath, 2600 square foot tri-level. Even with a big family it's set up in a way that you don't feel like your too squishy. Carrie...I love the quote on my wall too. They are vinyl letters that I had custom ordered to fit that wall...and yes I have Rachael Ray on everyday...and Paula Deen of course...gotta have me some butter! Gina...yes, I have my energy back. I still hurt, but feel much better. Thanks for asking. Amanda...here is the recipe for cowpie cookies. I did make them last night and the little pigglies that live here ate them up already. I keep trying to upload a picture of them, but blogger wont let me now. The are flat cookies that kind of have rings from spreading out that resembles a cowpie...hence the name.
Cowpie chocolate Chip Cookies
4 sticks of butter
3 cups packed brown sugar
1 cup sugar
4 large eggs
2 tsp. vanilla
3 1/2 cups flour
1 1/2 tsp. salt
2 tsp. baking powder
1 1/2 cups chocolate chips
butter for cookie sheets
Cream butter until smooth; add sugars and mix until smooth. Beat in the eggs and vanilla. Sift in dry ingredients and mix well. Fold in chocolate chips. I save the butter wrappers and use them to grease my pans. Drop 2-3 tablespoons per cookie. I use a cookie scoop so that they are all the same size. Space dough at least 2 inches apart to allow for spreading. I can only get 8 cookies on my sheets. Bake at 375 degrees for 8-10 minutes or until golden brown. Let sit on cookie sheet for a minute before removing to cooling rack. The cookies are very flat and crisp...yet chewy too.