This morning Mark left for his "canyon ride" with a couple of his friends. It's a motorcycle ride to the different canyons...Grand canyon, Brice canyon, Zions, and a few other that I can't remember the names of off the top of my head. The one I can remember I don't know how to spell. I spent a good part of yesterday helping to get him ready to leave. I even cut and dyed his hair so that he will look and feel a bit younger. Anything to help his ego. :o) He has been looking so forward to this. He called tonight and said they cooked fajitas when they got to their camp site and they're having a great time.hmmmmm...just a thought...WARNING...If there is anyone out there that's a creepy blog stalker, I am not home alone. I have 3 protective dogs and equally protective full grown boys who have no problem shooting or stabbing you should you get past the dogs....seriously!
Do you think they wouldn't hurt you if they do this to each other?!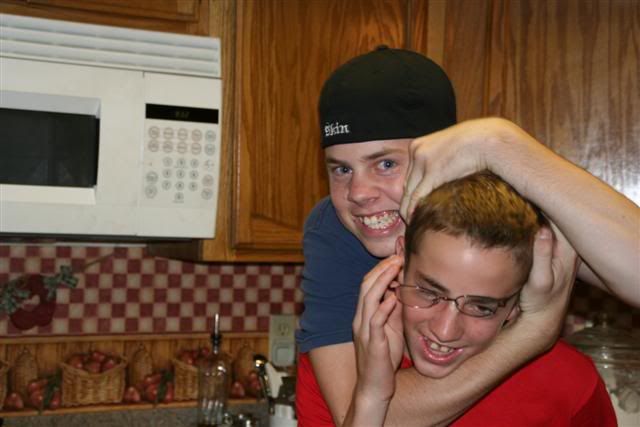 Tonight Mark's brother Rodney and his wife Cam took me out to dinner up at Rustlers Roost. It's up on a mountain over looking the city lights. It was such a beautiful view. I wish I had my purse camera, but I let Mark take it for his ride. After dinner I went over to the hospital to see the baby. I didn't think the valet was working that late so I parked pretty far away. I walked in and when the elevator doors opened Brek and Brittany were standing right there to get on. I made them go back to the NICU with me to see baby Mark. He's holding down his food today. Lets hope he keeps that up. He was sleeping so we didn't stay too long. When we got back outside, the valet was there and they had parked B&B car. They gave the valet guy their claim ticket and were teasing me about getting to their car first. I said no way because I'm going trip him and run like crazy to my truck. The valet dude started laughing and took off running so fast you'd a thought he was in a sprint race for the USA Olympics team. Well crap!... I started running...and mind you it wasn't a pretty sight. Not only do I NOT EVER run, but I had just eaten dinner. He got their car back to them so fast and told them if they hurried they could beat me because I was still running. I seriously ran the WHOLE way there... Stop laughing...I can't believe it myself. Brek and Brittany we're cracking up as they sped past me as I was backing out of my spot. I couldn't breathe! I followed them through the parking lot honking my horn at them and yelling for them to give me water. Brek jumps out and hands me water. I think that's the only thing that saved me. When we got to a red light they were laughing at me and saying that they have never seen me run that far. Well that's because I haven't run that far since junior high and I don't think I'll be doing that again. I looked like a complete dork, but at least I entertained the valet dude. Two tylenol and I should sleep good tonight. I'm warn out.