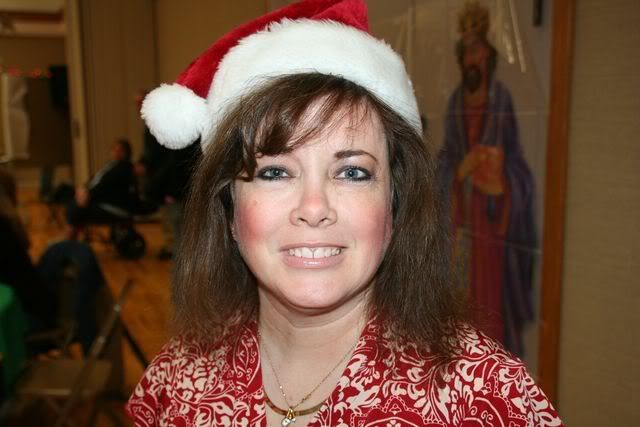 Had to pop in to wish you all a very Merry Christmas! I honestly have no time to be blogging, but guilt has set in, so I thought I better post. Everything is great here...just clearly not enough hours in the day. I've even cut back on sleep and I still can't get it all done. Crazy!
We had our ward Christmas party on Saturday night. Mark is high counselor over the 7th ward and they asked him to be there Santa. Actually our ward asked him too, but their party was the same night and he already told them yes. We did skip out of our ward party early to go help him get suited up and so the boys could make fun of him, as teenage+ boys like to do. I know you probobably noticed a blonde haired Cole in the picture. While I was in the shower, Chad was highlighting his hair and Cole decided to use the rest of the bottle on his whole head. I hate it. He loves it...of course!
I even got to sit on Santa's lap. He said I could have anything I want. Isn't that nice?! :o)
Yesterday I baked

21 dozen

pumpkin chocolate chip cookies and cutely packaged them up with some little candy canes on top. It's a tradition that where ever we live we deliver treats to all the houses on our street. We know loads of people in Maricopa but we still don't know hardly anyone on our street. Hopefully our neighbors will become a little more social.
My not so little elves getting ready to go deliver.

Our good friend Jimmy had a birthday and they happen to be moving this weekend, so I got him a gift. He works at the dairy and knows more about cows than anyone I know. When he moves to snowflake he is going to teach agriculture at the high school, so I thought the cute farm animal stack was a perfect gift. The quote on it says The sky is the limit when your heart is in it. I also liked the letter blocks and thought his sweet wife would like their last name spelled out. (and she did) We had their family and our other home teachers family over for dinner on Sunday night. It was so much fun visiting with all of them. We are sure going to miss the Crosby's.