This year we had Thanksgiving up in

Payson

at Mark's brother Rodney and his wife Cam's house. They have a beautiful home with a gorgeous view. It rained pretty much all day. I loved every minute of it.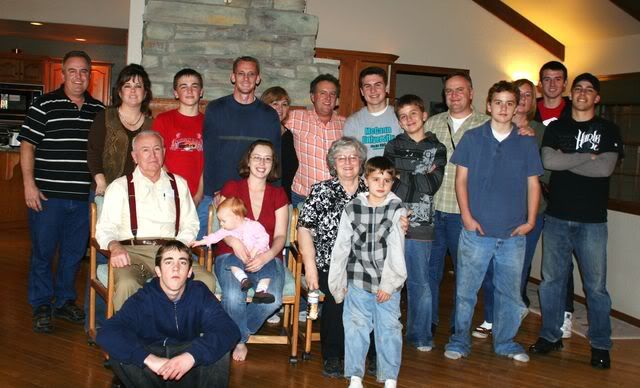 I think we had 32 people there total. This is only some of us. Even with that many people we still had loads of leftovers.
I made 5 very yummy pies and other people brought pies, cakes and mini cheesecakes, so there was no shortage of desserts to eat after the feast. Why do I always forget to wear stretchy pants on Thanksgiving? Plus we ate Thanksgiving with our friends the

Koozer's

on Wednesday night. I'm totally afraid to get on the scale, so I'm choosing not to until I have at least a week of aerobics under my belt. By the way, the

Koozer's

oldest son,

Charl

got his mission call. He's going to Rome, Italy!!! How neat to get to learn Italian and share the gospel in Italy for 2 years. It will be an amazing experience for him. We are so excited for him!
Me and my hubby
One of the funniest moments was after we had been there for over 2 1/2 hours, Cole says out loud..."Hey mom, there are 2 Cam's!"

LOL

! We all laughed so hard. I had no idea he didn't know she had a twin sister. And how did he manage to go that long without seeing them together. It was just too funny!
We were suppose to do the turkey trot on Thanksgiving morning, but I haven't been sleeping so I was too tired to get up and do that and still be able to function the rest of the day. I was really looking forward to it. Me, Mark, Chad and Hunter ventured out for some black Friday shopping after a very hearty breakfast at Bill Johnson's to keep us going all day. I got my Christmas tree up and decorated, but none of the other decorations yet.
We had family home evening last night about free agency and choice and accountability and also discussed household chores and responsibilities. Everyone was assigned new chores, so I'll be less stressed trying to do too much around here by myself. We even assigned dish nights, and since there are 7 people living here I only have to do dishes on Monday's. I'm so dang excited!
So how was your Thanksgiving? Are you busy getting ready for Christmas? I finally gave in to the Christmas music. I refuse to listen to it until after Thanksgiving.
I woke up with a cold this morning. I feel

ick

! I ran up to the store to get some

zicam

in hopes to knock it down speedy quick. There's NO time to get sick.
I have a strong testimony of tithing. We pay our tithing

faithfully

. I write a check every Sunday whether there is money in the account or not. I have faith that by the time the check clears, I will have money in the bank to cover it and I always do. Not paying it just isn't an option in my head. It's been a tough year financially for us due to some properties that choose not to pay us the MANY thousands of dollars they owe us. Plus we were suppose to get a $3,000 tax refund in October, but the IRS decided that instead, we owe them like $5,000. How could that be??? So we've been fighting them on it because we knew that we were honest in our dealings with them. So, today in the mail I get a check from them for over $4,000!!! How cool is that?! and who

EVER

win

arguments

with the IRS? I actually cried as I sat there at the mailbox because I

knew

we were going to be able to get all of our bills paid. I know you

receive

blessings when you do things that require faith, but I surely didn't expect this. I am deeply grateful to my Heavenly Father for watching over my family and blessing us for being faithful when it was so hard to do. Oh happy day!
FYI...when a boy leaves a pen in his pocket and runs it through the laundry, it tends to explode in the dryer resulting in ink stained clothes and ink stained dryer drum. Magic eraser with nail polish remover does a semi-okay job, but the fumes may very well kill ya.