Chirp...Chirp...Chirp! Is that crickets I hear from a severe lack of posting to my blog? Is anybody still out there in blog land?
WOW! Christmas and New Years came and went so quickly. It felt so abnormal to me. I didn't take many pictures at our annual family Christmas eve party and the ones I did take were not great. We still had a really fun time with my parents and my sisters families. We ate tons of food, played the white elephant game and exchanged gifts. Mark was almost late to the party and had to be brought home by the police. :o) Just kidding! Well actually it's partially true. Hal did bring him home in his police car because Mark left the work van at their house so their son could steam clean out their suburban before their trip to Mexico. We bought the grand babies noisy toys to take home. (hee...hee) Brek said he would not be replacing the batteries when they died.
Christmas morning the boys got us up at O dark thirty. I was so tired! They opened their presents (which they loved) They all got clothes, scriptures, and stuff to make them smell good. We splurged and got them the Wii this year. I decided it was okay since it's an active game system. I have yet found time to play it, but I'm looking forward to kicking butt in wii bowling. I got Mark all kinds of good stuff, like a new set of scriptures, clothes, a GPS system and lights for the motorcycle. He got me some beautiful jewelry and tons of new watches to match different outfits.
Later that morning we had the Koozer family over for a big breakfast. We so love their company! While the boys played games and watched movies Mark and I drove to Casa Grande to visit his mom. His dad was working but we still had a great visit with his mom.
New Years Eve we hosted a party because we don't like to be out on the roads when the amount of drunk drivers is higher. It was us, the Koozers, The Munns and the Mixes. The Mixes left before the picture was taken. Most of all our combined kids were home with the exception of a few that wanted to go to a youth dance. We had tons of finger foods and a chocolate fountain going so we could graze all night long (and we did) Hal had to work, so he kept coming and going all night in between police calls. The neighbors probably thought we were having one crazy party or something. LOL!


She loved the chocolate fountain!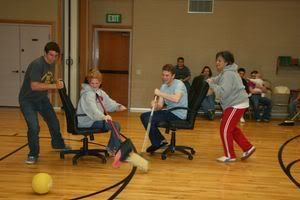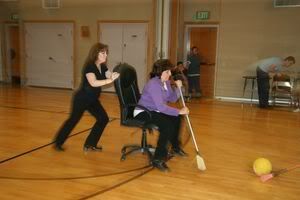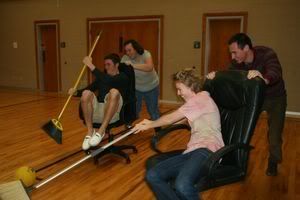 We played games all night. Some were games at home, but the funnest was office chair hockey at the church. Since I have a key to the building and nobody was using it, we decided to jump on it. We loaded up all the kids, 2 office chairs, brooms, and a ball. We lined up on opposite sides of the gym in even team, then paired up with a partner. Missy and I were partners. Two teams face off in the middle with broom in hand. One person pushing the other around in an attempt to score a goal. After each round they would call out team numbers for the next round and you have to run to your chair fast so you could get first whack at the ball. We did pretty darn good and it was dang good exercise to boot, so I have no guilt for all the junk I ate. This really was the funnest game. We all laughed so hard. My good broom ended up broken. Next time I'll have to bring cruddy brooms. At midnight we celebrated with sparkling cider. I smooched my husband and hugged my friends. We visited for another hour or so, then headed to bed around 1:30 only to get a 5:00a.m. wake up call for the New Years Day charity ride...sleep is not something I've been getting much of.


Oh, guess what? TODAY I finally went to the gynecologist. I haven't been since my last baby was born, so my feet haven't been in those awful stirrups in over 12 years. So not fun but long overdue. Won't have test results back for 2 weeks. I have to get an ultrasound of my uterus on Thursday. Yay me!
Okay...gotta run. I started typing this blog this afternoon. I managed to squeeze in a doctors visit, the pharmacy and grocery shopping in between. Now I'm going to go make breakfast for dinner at almost 8:00 at night
.
Let me tell you that when you dont have time for the computer you totally lose your typing skills...seriously!