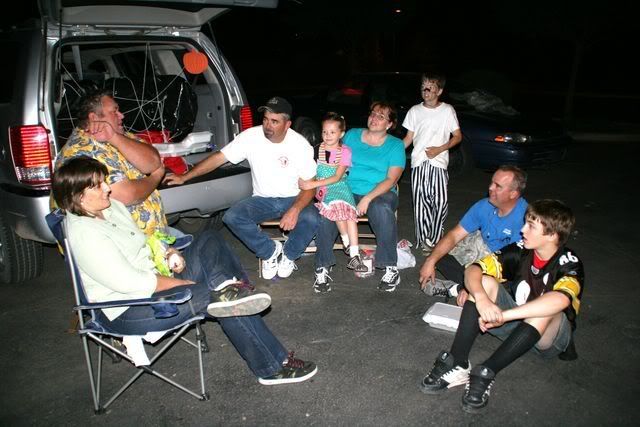 This year for Halloween we went to our wards "trunk or treat" party. It was so nice to be able to sit around and visit with our good friends. Mark and I bought costumes. We were planning on being the
SNL Spartan Cheerleaders
, but Mark decided that because we didn't have time to practice the all the
goofy cheers
, that we'll have to wait and do that next year. We can so do goofy so I know it would have been a lot of fun. He ended up being really late to the party, so I went out on a limb and dressed up as a biker chick since I wasn't about to run out and buy another costume. I did however break out my way cute pink leather chaps now that I can finally fit into them. It's hard to tell what's on my do-rag, but they are pink pigs flying. I told my boys that would be the answer to most questions they had for me. Question:"Mom, can I go over to Erica's house?" Answer: "When pigs fly!" LOL! I do need to be careful because they did threaten to toss some pigs in the air and count that as flying.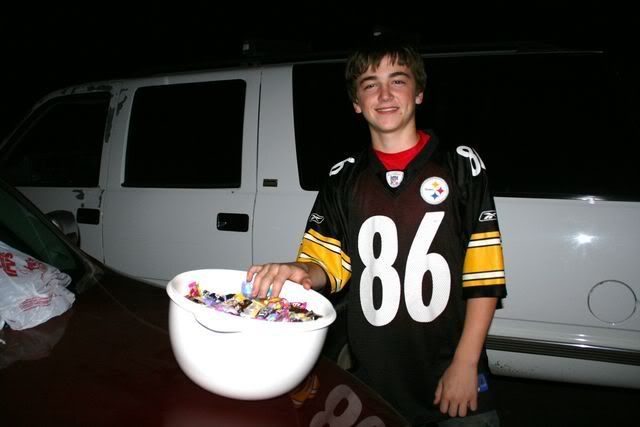 Cole passing out candy.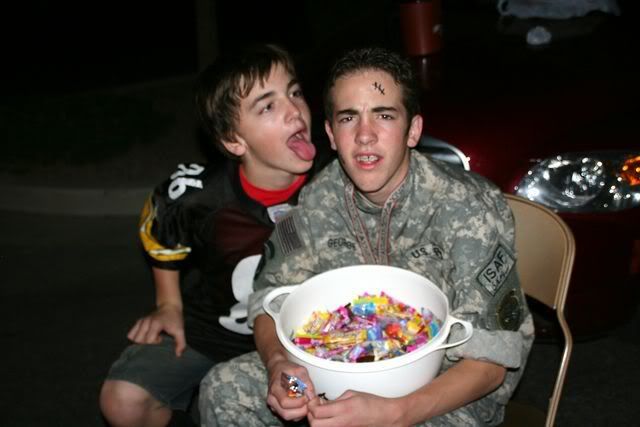 Cole and Cody. Don't ask! Boys are just weird!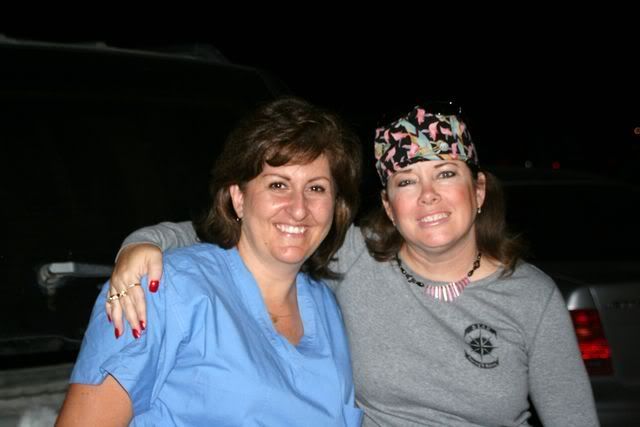 Me and my good friend Missie, whom I love and adore! I'm so glad her family moved out here. We have SO MUCH in common and we truly love their family. We clicked instantly. Plus she is my aerobics buddy with a common goal not to jiggle anymore. :o) She even said I had a cute butt with my levis and chaps on. Now THAT is a good friend! LOL! Gotta lover her! :o) One day last week aerobics was cancelled so we were good girls and walked the "loop" which from my house and back is 3 miles. Her house is a little closer though but it was a good walk.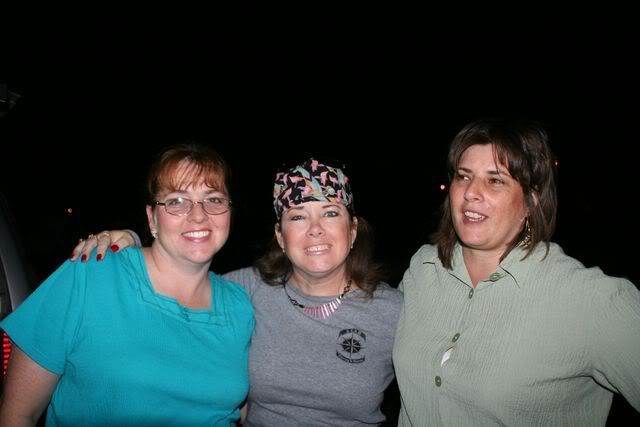 Shannon, Me and Kathy - two of my other good friends. I do aerobics with Shannon too and she went to girls camp with me. Such a sweetie! Kathy is Stacey mom. (Chad's girlfriend) She is a sweetie too. We sure love both of their families. Just real good people!

Hunter, Chad, Stacey, Jennifer. Happy Birthday Sweet Jennifer! Don't ask what Hunter is doing...dork!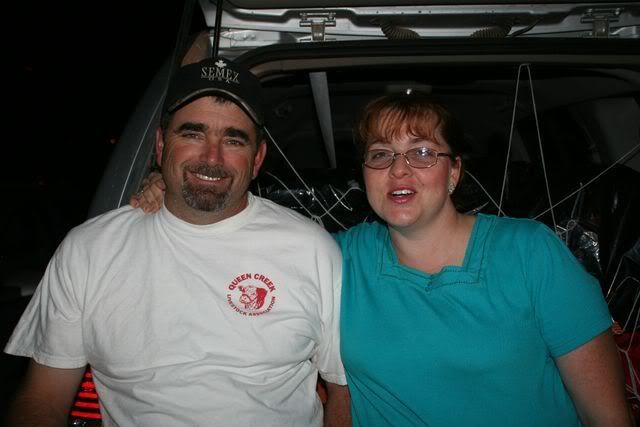 Jimmy and Shannon...they are so cute together. Fun people!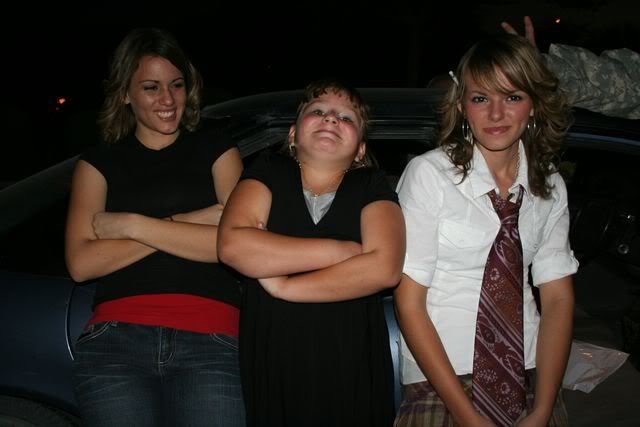 Stacey, Carly,& Jennifer (sisters)
Me and Miss Elizabeth. She is one of the cute young women that I dearly miss. She is daughter to Jimmy and Shannon. Missy ended up with my calling in young women's. I was thrilled because she is so much like me and I knew the girls were in good hands.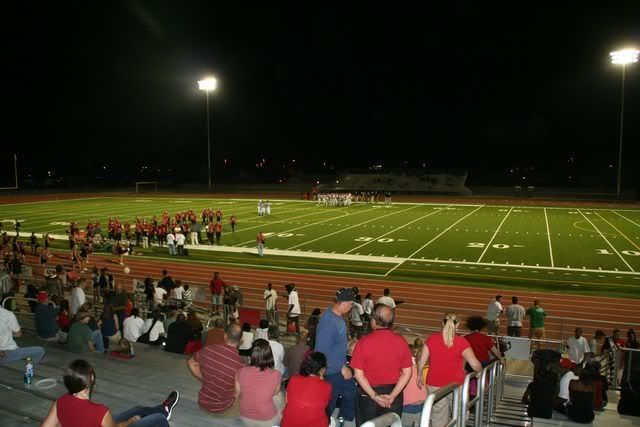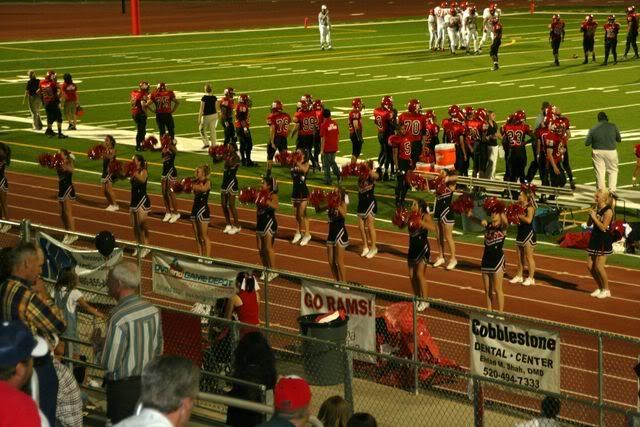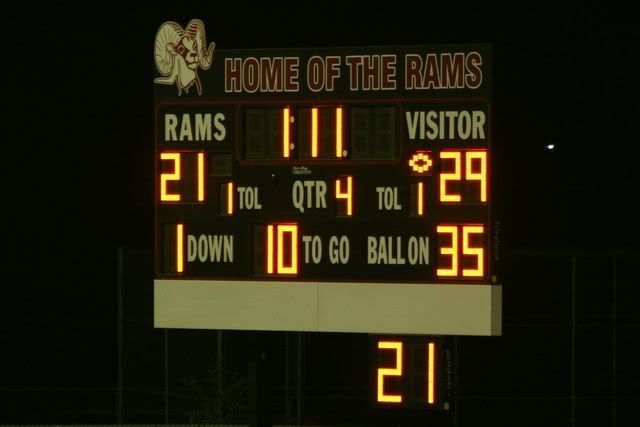 After the party we went over to the Maricopa High School homecoming football game against Globe. Just look at how gorgeous that field is! Holy Crud is it ever beautiful! I realize that we should have won the homecoming game. We were ahead for a while then lost it in the end. It was still a good game though. Hopefully we will have a better season next year. Before the game was over the high school had a fire in building 200. Lots of fire trucks and cops. Makes me sad since they just rebuilt the old school just in time for the new year. You can see the smokey haze over the field in one of the pictures. I hope the damage isn't too bad. Missies husband, Hal hung out for a little while at the game then he had to attend to police business. I'll have to find out from him just how bad the damage was.
Some of you had crafty questions that I haven't forgotten about. I'm going to call my friend and get details about the glass blocks and the nativity vinyl for you. I know there is a special technique when drilling the hole to put the lights in to keep the block from breaking. Details on next post or I will edit the bottom of this one, so keep your eyes open.
I so wish blogger would fix this ginormous picture problem. It makes my blog look ugly. Can you believe it's November already? I'm a little (lot) scared how fast the holiday's are upon us. Get this...we're still in the mid 90's here. Sure doesn't feel like fall.