When one can't sleep...she blogs, of course! Darn restless leg syndrome has me up, plus I knew I was in trouble this morning when the aerobics instructor announced she had some pent up aggression she needed to get out. We all paid for that with an extra hard work out. As hard as it was, it's kind of nice to be challenged like that. The weight is coming off SO SLOWLY now. I'm down 25-26 pounds depending on the day. I've gotta get through the holiday eating fest and at least maintain.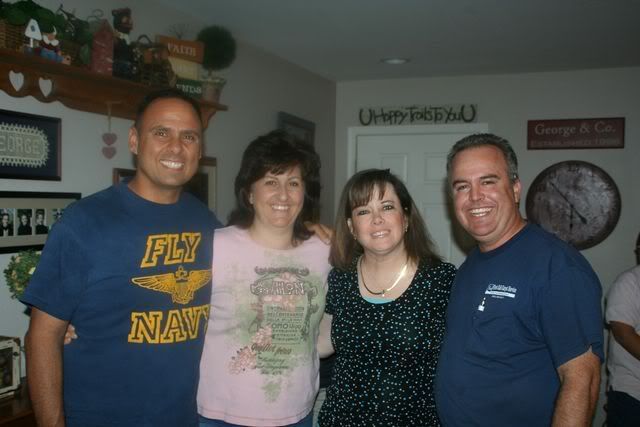 We had out best friends, the Koozer family over for dinner the other night. It was so much fun. We just love their whole family. I made chicken cordon bleu lasagna casserole. It's so dang good and it makes a ton so I only make it for company and parties. I also made the garlic bread and Missie made a normal lasagna (for those non alfredo sauce loving people) and salad. We had such a great time visiting. We laughed so much. Hal is the most genuinely funny people I've ever met and it's so nice to see how much he loves his sweet wife. While we were all talking we discovered that I am good friends with Missie's sister Carrie and didn't even know they were sisters. Such a small world. Crazy thing is, they look so much alike and often times talk alike too. The first time we saw them in church Mark leaned over to me and said "she looks like Carrie" I said, "I guess she kind of does" After that I never thought about it again until the other night because I got to know her just as her instead of as Carrie's sister. Now that I know, so many familiar things just pop out at me. It's just too funny!
I posted the recipe a long time ago and I don't know whee so here it is again...
This is the recipe from memory...I'm not big fan of measuring. I'm more of a dump it in, that looks good kind of girl.
Chicken cordon bleu lasagna casserole
6 chicken breasts cooked and diced or shredded (I bake them with water in the jelly roll pan. Olive oil on top and season with salt, pepper, lawrey's, onion powder, garlic powder. They stay moist that way)
2-3 cups of diced ham
2-1 pound boxes of pasta Whatever shape you like. I use penne or bowtie
1-16 oz container of cottage cheese
1 container of ricotta cheese
1-6 oz container of shredded parmesan cheese
1 pound block of mozzarella cheese-shredded
1 pound block of swiss cheese-shredded
2 sticks of butter
4 oz. of cream cheese
1 quart of heavy cream
1-6 oz. container of shredded parmesan cheese
2 tsp. garlic powder
salt and pepper to taste
If you are making alfredo sauce to eat on pasta make it normal, but for this recipe add in 3/4 to 1 cup of milk. It helps keep it moist and saucy.
Simmer butter, cream cheese, heavy cream and extra milk. When melted add parmesan cheese garlic powder, salt, and pepper. Simmer until cheese is melted. Cook your pasta until tender and drain. Dump everything into a large bowl and pour the alfredo sauce over the top and mix well. Pour into a large pan or two 9X13 pans. Reserve half of your mozzarella and swiss cheese to sprinkle on top. Cover with foil and bake at 350 degrees for 1 hour. Let stand for 10-15 minutes before serving.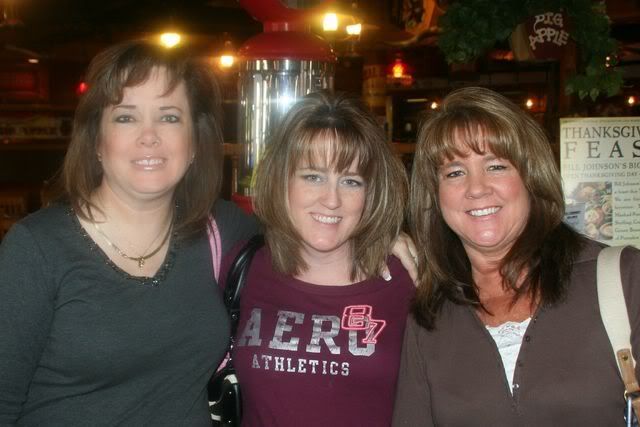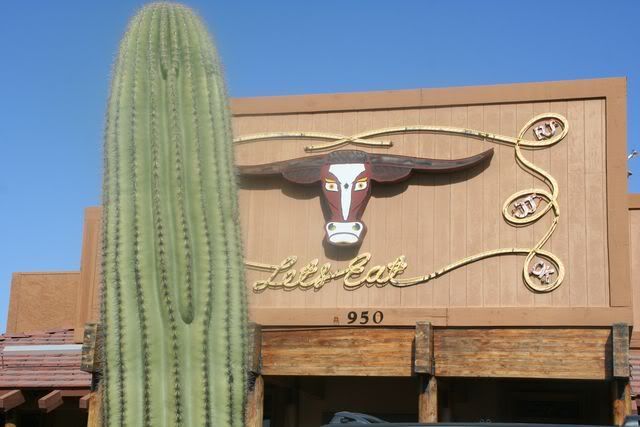 Friday we had our "sisters day"...minus Rene' who had to work. We met up at Coleen's house and went to Bill Johnson's Big Apple for breakfast. It's my FAVORITE place to eat breakfast! I love it! Plus it's such a hearty meal, we're set for a long day of shopping without getting hungry. Notice the picture of us girls together. I'm 5'4" Coleen WAS 5'2" and Julie WAS 5'3". They shrank! I'm honest...they really did! I look huge compared to them. Then there is little Rene' who is only 4'11". I tower over her and I'm not a tall girl.
Did you know that I have mean sisters who play slug bug with like real hard punching and everything? They don't even care when you say "I don't play those kinds of games and I bruise easy." My heart was racing because they have trained eyes too look for those stupid cars and I just knew they'd see them before me. It made my stomach hurt. After being punched HARD in the arm twice I opted to sit in the back seat and let Julie and Coleen smack the crap out of each other as they called out "yellow slug bug...white slug bug" My arm still hurts! Dumb girls! We did had a great time shopping all over town. I'm looking forward to black Friday shopping. Not so much the getting up at O' dark thirty or standing in line in the cold, but the excitement of the day is pretty fun. To me it's the kick off to Christmas.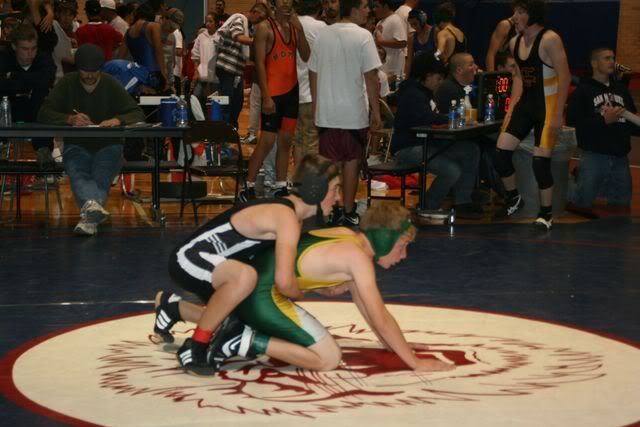 Cole had a wrestling tournament this past Saturday. He had to be at the school at 3:30 in the morning to be in San Manuel in time. I've never even heard of that town, but it's far. Mark went there to watch and take pictures. Most of them were really blurry because he was sitting so far away. They competed against 16 schools and Cole came in 6th in his weight out of 36. Not too shabby for his first tournament. They didn't get home until after 8:00 at night....and that was early compared to the kids who had to ride the bus home. Cole rode on the back of the motorcycle and left 3 hours before the others. Talk about a bunch of tired kids.
Some of you have been asking about Christmas cards. I didn't think I was going to be able to make them this year because of lack of time and budget. I normally start on them October 1st and already have the family picture taken. Plus I normally make 300. I just don't have it in me this year. I was forced into only making 125 of which only 50 are done so far. My friend Cathy invited me to her house on Saturday to scrap so I worked on them there. It's been a long time since we've gotten together. We had a lot of fun visiting while we worked. Her kids are so big and her girls are beautiful! Makes glad to have boys. My stomach would hurt thinking about them dating boys. We still haven't even taken the family picture, but it will be printed in wallet size and stuck in that white spot on the front. These are the most simple cards...kind of boning. With time being an issue, fancy just wasn't going to happen. The quote under the family picture says
"The best things in life aren't things.
Share the gift of love this year."
I printed the family message on the inside of the card. I'm hoping to gather my children and grandchildren this weekend for a little photo shoot. Wish me luck!
Well...it's going on 3:00 a.m. and I won't be able to survive aerobics or even function tomorrow if I don't get a few hours of sleep.