Our ward is doing a Super Saturday craft day in October. We had to have the sign up display table done this past Sunday to give a few weeks to sign up as well as a few weeks to prepare kits for that day. I was asked to make and teach one of the crafts. They wanted a magnet board so I created one that is 12" X 24". I painted the wood black, sanded and stained the edges. Glued on the custom cut piece of sheet metal and attached bazzill flowers to the top with upholstery nails and put a saw tooth hanger on the back. Easy peasy! The cost for making this craft is $9.00. Pretty cheap I think and WAY CUTE! I'm really looking forward to Super Saturday. We are doing lots of cute and easy crafts. It's sure to be a fun day.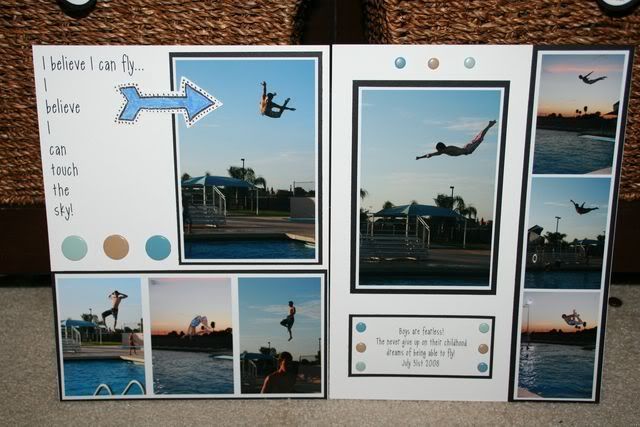 On Friday night I went to town for scrapbooking night with the Ladies of Star. I got 2 easy layouts done. It's hard to be too creative when you're at someone elses house and don't have all your own things. Done is good in my book. It really was a fun night with my friends. In total there were 10 of us. Mindy is the one who hosts. She cooks us all a fabulous dinner and dessert and she sets up tables and lights in her living room and raffles off fun things. 10 people can work perfectly in there. I sure appreciate all the effort she puts into our monthly scrap night.
Seminary
started today for the kids in our church who are high school age. (9th-12th grades) We have 3 seminary teachers that teach every morning here in Maricopa before school starts. Brother Malan is one of them, but he had foot surgery and had been in so much pain. Obviously he was unable to get his classroom ready. I had brought Chad and Hunter to the church to set up his tables and chairs and I was talking to him about his class. The other two teachers classrooms look so cute. He told me "I can teach the class, but I have no idea how or the ability to decorate a room". I told him "this is your lucky day, because I CAN'T teach a class, but I CAN decorate a room". LOL! He was thrilled! I spent a day and a half setting up his room. They are studying the New Testament this year. I printed upthe names of all the books in the New Testament and tore the edges and inked them for an aged look. I had Hunter and Chad put them up high on the wood beams in order. The kids have to memorize the books in order. They look really good, I think.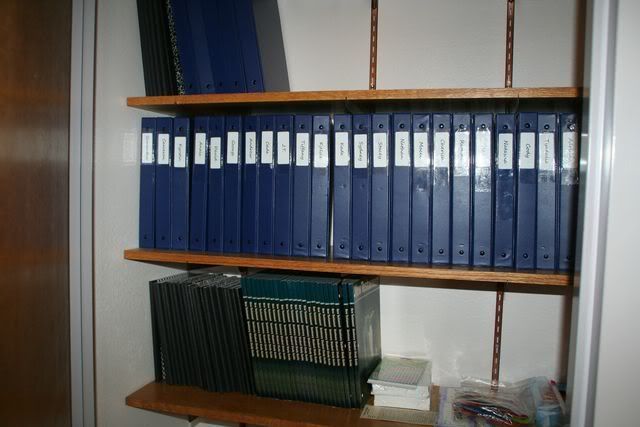 I also got all his students binders with their name labels on them and included a pencil pouch with a black pen, blue pen, pencil, red scripture marking pencil and a scripture mastery card. The each have a composition book with their name label as well as this years manual.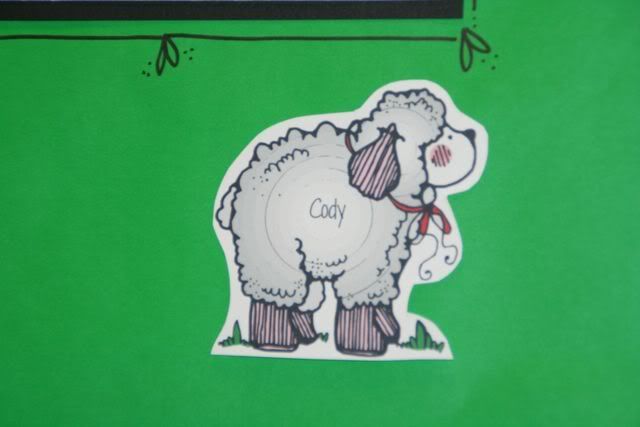 His classroom doesn't have big bulletin boards so I utilized the back of the double doors. The girly side of me had to cute it up a bit. He wanted something to do with knowing the Shepherd, so I found a really nice picture of Christ as the Shepherd and found sheep in my clip art. They were facing left, but I thought they should be looking towards Christ so I flipped them and then put the students names on them. The quote I used says..
"We should each ask,
Am I loving enough, am I studying enough,
am I serving enough to know the Shepherd?
May we all come to know the Savior through
obeying his commandments, so that when we
meet him face to face, we each can say,
I know thee, thou art my Shepherd."
I can't tell you how much I love that quote. If you really ponder on it, there is so much power in it. I hope the students this year really strive to know the Shepherd.
I'm getting ready to head to town to get a few things. I'm not quite done with his room yet, plus Mark forgot his wallet and needs it.
Happy Monday Everyone!