Immunizations - check

haircuts - check

lunch with mom - check

clothes shopping - check

school supplies - check

registration - check

sports physicals - not yet

bus schedules - check

father's blessings - check

boys dropped off for their first day of school - check
It's hard to believe school as started. It feels strange. I have yet to decide if it's strange good or strange bad. I don't like the fact that Middle school/junior high starts in 6th grade instead of 7th like I'm use to. It feels like my baby has been robbed of his last year of elementary school. He's excited. Why can't I be?
A bunch of us mom's are going together to have a back to school lunch in town one day this week. I'm really looking forward to it. I have some great friends out here that I love.
By the way...I included a picture of me and Cole at his last basketball game so you can see that over the summer he went and out grew me....dang kid! It happened so fast. I'm now the shortest one in the family. Cody is the tallest in the family.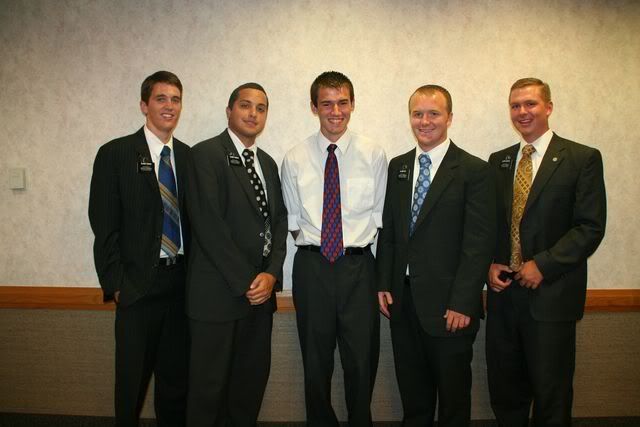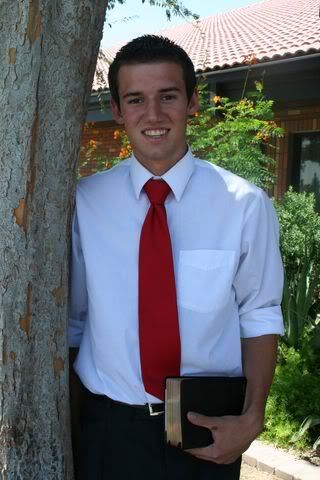 Hunter was baptized by Mark on Saturday. It was such a special day. You could feel the spirit so strong. A while back the missionaries had stopped by our house to refill their water bottles and Hunter told them he would like to start taking the discussions. The missionaries started coming over to see him twice a week and he had prayed about it and decided he wanted to become a member of the
church
. He has been attending every Sunday with our family since he moved in here. We have watched his testimony grow. He has made good friends who are great examples to him. The Turley family in our ward have been so good to him. They've had him over for family home evening several times and truly befriended him. We love that family. Actually we love so many families out here. The ward mission leader gave Hunter a new set of scriptures that have his name engraved on them. He loves them! We know this is where we are suppose to be. Sadly Hunter's parents are very upset about his decision to be baptized. They disowned him, changed their locks and told him not to contact them or his brothers as well as several other hurtful comments. it broke my heart that they treated him so bad over a choice of religion. They hate Mormon's, yet their only knowledge of our religion comes from Mormon bashers who don't believe in telling the truth. It's so sad. We pray that their hearts will soften over time as they see how much he's grown through making positive choices to live a good life. He knows in his heart he's doing what's right. I'm so proud of how strong his testimony is. He is a great boy.
The ick update.
I had gotten BAD sick Monday night and spend the next 4 solid days in bed. I finally managed to get up on Saturday, but it wasn't easy. I knew I had to be there for Hunter as well as take the boys school shopping and to get refreshments for after the baptism. For the first time, nothing was homemade. I just didn't have it in me. It was a really difficult day physically. It's a dang good thing boys are fast shoppers. I don't have any of the protruding ick, but I still don't have my strength and my stomach has a lingering, yet constant dull ache. Sometimes sharp pains. My appetite is half of what it was and every single thing I eat makes me feel sick. I dread eating now and only eat out of necessity.I just want to be 100% again. Not that my 100% is awesome, but I'll take it at this point. I'm telling you right now, that I'd rather go through labor and delivery that go through this crud. It's been horrible! I am so grateful for a couple of the young women who came over during the week and helped clean up my downstairs for me when they knew I couldn't and it had to be done before everyone came over Saturday for refreshments. I love those girls!