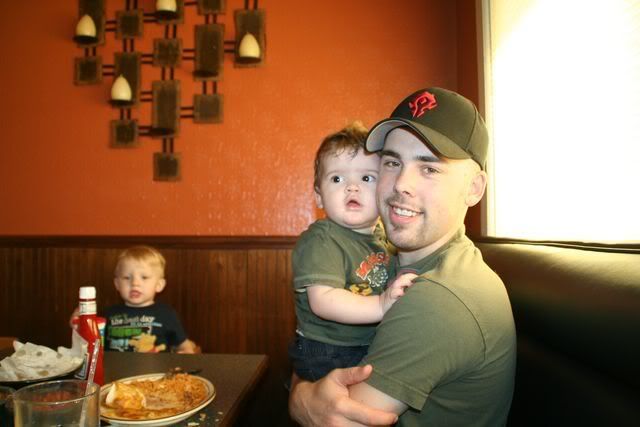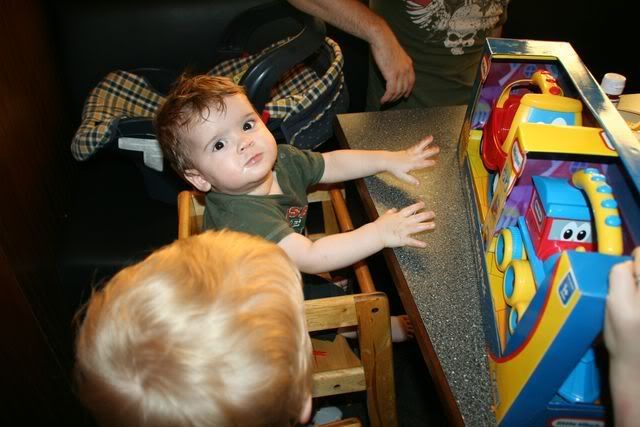 We all met Brek, Brittany and the boys in town for a birthday dinner celebration for John. The birthday boy slept through most of it. He woke up in time to eat a little bit and to get his presents from us. We got him a big boy car seat so he can sit facing forward like baby Mark does, a couple of outfits and the cute little cars. I got them because they came in a two pack knowing full well the boys are too young to really grasp the whole sharing and wait your turn to play concept. Less fighting that way. It was really fun to spend time with them.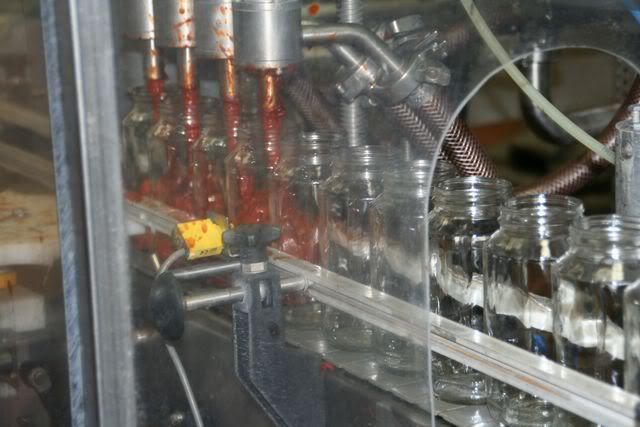 On Tuesday morning I volunteered to work at the church cannery. It was spaghetti sauce day.The sauce itself was made earlier that morning. When the volunteers arrived we all sat through a quick safety orientation, scrubbed our hands and arms, put on gloves and a lovely hairnet to make us all look fabulous and got set up on different stations. Some would load of the clean empty jars. Then they would go through the tunnel that filled 4 jars at a time. When they came out people would put the lids on as they passed by.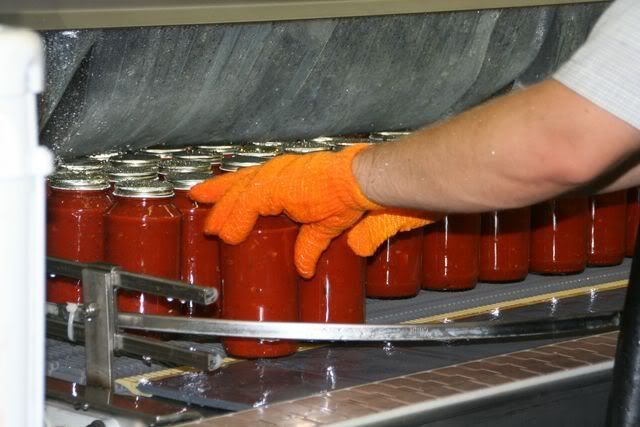 This is where they enter to be processed. This person had to wear special heat gloves because the water is very hot.
They would come out the other end and be placed back on the conveyor belt.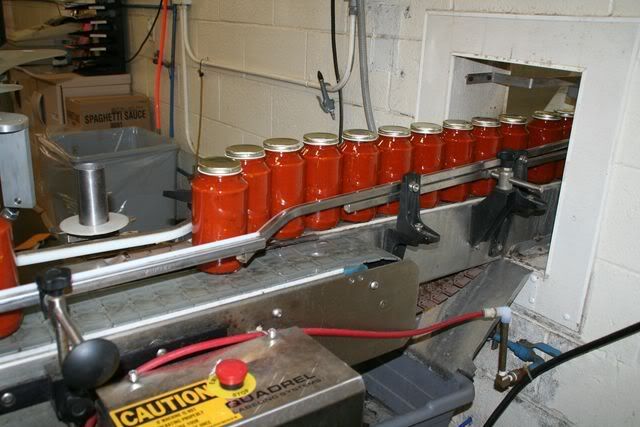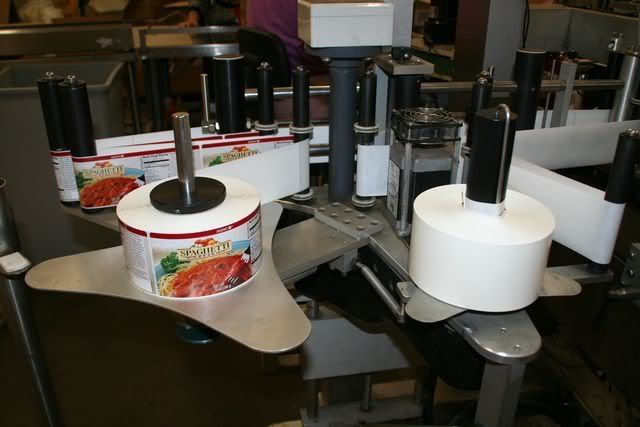 Sent through the hole where the jars got their labels. We would take them off quickly and put them in boxes. Sometimes it was so fast it reminding me of that I love Lucy episode in the chocolate factory. If it was a chocolate factory you can bet that I would have eaten my share of them. I traded off between 3 jobs. One was filling the boxes and testing the lids to make sure they were sealed properly, one was folding down the top flaps and having boxes always ready for the filler then shoving it down to be taped. Then we were running low on boxes so I had to make them up and put their divider inserts in as quick as I could to keep up with demand. It was feverishly fast work.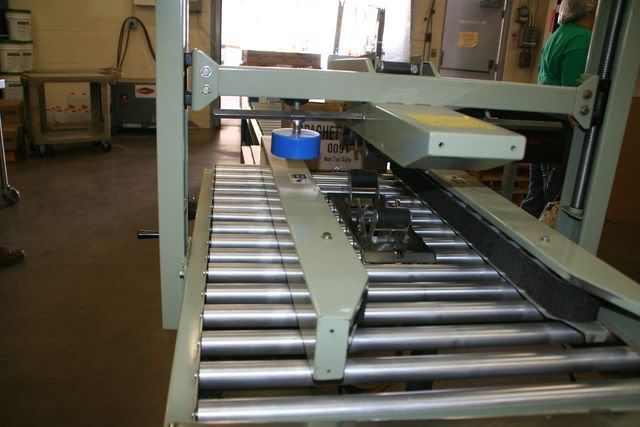 This is the tape machine that tapes the top and bottom and the same time after the boxes have been filled with the jars.




Then they were stacked on pallets and fork lifted out and we'd start a new pallet. In all we bottled up 12,000 jars of spaghetti sauce for the church welfare system. The whole process was so interesting and I really enjoyed the work even if my arms felt like limp noodles by the end of my shift. I feel good about serving in any and all areas of this church. It's good and important work.
I found out Tuesday night that I had to go to court on Wednesday morning to testify in a child support lawsuit for one our family members. They have been divorced for 12 years. It was very difficult because I've been friends with both of them for almost 23 years. It's just so sad that it has come to this. I did what I was called to do. I told the truth of what I knew. They ran out of time in court to present their whole case so they have another court date in December to finish it up. It's pretty much in the hands of the judge and our Heavenly Father on the outcome. All I pray is that the truth prevails, whatever that may be and that all parties can move on with their lives because even though the kids are now grown, it's still very hard on them to have their parents going through this. I feel so bad for them.
After I was done at court Mark had finished up with his schedule early so he took me to lunch at the Olive Garden and to a movie and we went and bought baby Mark some birthday presents. He will be 2 on September 2nd. Then we met up with the star riders for dinner. It was such a long day and I was in a dress and heels for all of it. My feet still hurt this morning. I'm so glad to finally have a day at home! I think I'll get some cleaning done then relax for a bit.