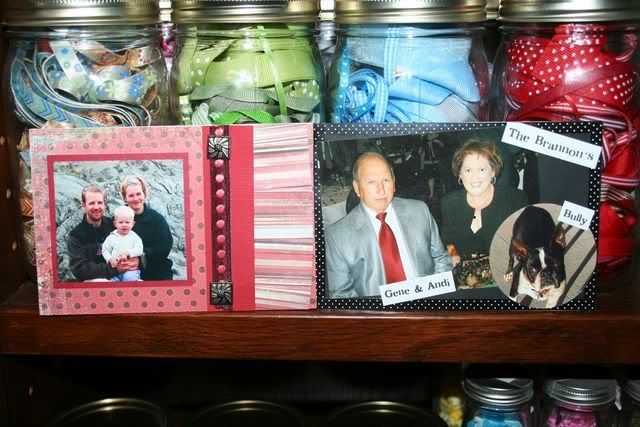 I got two more getting to know you cards in the mail. They are so stinking CUTE! The one on the left is from Maren. The one on the right is from Andi. Thank yo so much ladies! I appreciate you! I'm extending the deadline to May 10th for 2 reasons...I haven't gotten many cards, so that gives who ever wants to more time and I'm too busy right now to put the prize together. :o) I will announce the winner on May 11th. (mother's day) My address again...Jolene George P.O. Box 40512 Mesa, AZ. 85274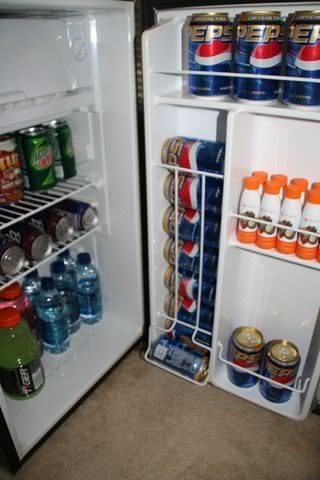 Do you know why my mini fridge is still full of Pepsi? Because today is day 6 with no Pepsi. I've decided that I get to drink it one day a week. I have yet to decide which day that will be. I guess it depends on my needs or the level of stress I'm under. I have really learned to love water (with my teeny sonic ice) but I do miss the flavor of my sweet Pepsi. I think just maybe I'm a junkie.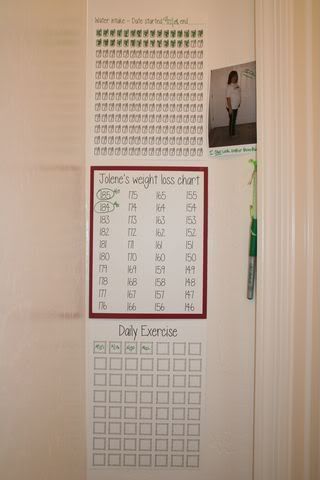 In my bathroom I've posted the wall of shame/motivation. I'm definitely a girl who needs to check things off of list. I feel more accomplished. I'm a big time visual learner. I have dropped 1 pound so far. I won't mark it unless it stays down for a couple of days. I've been exercising in my room at night, but I think I'll add walking in the mornings. I had Chad ride is bike around the neighborhood loop. It's 3.5 miles...which may not seem like far to most people, but for me that is a REALLY long ways. I'm going to take my dog Pappi with me because he has gained a considerable amount of weight over the past few years and he loves to go on walks.
This afternoon I went to watch Stacey (one of my young women) play girls softball at the high school. She is an amazing athlete. I was so impressed by her. She is really great at any sport. I got so many great shots of her...even through the chain link fence. I really loved watching her play. Such a darling girl!
Just as I got home from the game, Chad was leaving to meet up with Mark and the guys for their night ride. Yesterday he was on his other motorcycle and he called me saying the valve stem broke on his front tire and I needed to come get him with the trailer. Just so you know, I've never in my life hooked up a trailer. I couldn't just back up to the RV gates and hook up either because it was in the back yard backwards. Cole and I unloaded the junk off of it and pushed it by hand through the rocks, turned it around and pulled it out to the street to hook it up to Kyle's truck. Then getting the hitch securely locked onto the ball and hooking up electrical is a whole nother issue. It took a few minutes but we did it. We then hop in the truck (that has NO AC mind you and it's HOT here now) I look down and the gas tank is empty. PERFECT! Now I need to try to pull into a gas station with a big trailer behind me and do my best not to hit another car or the gas pump. It wasn't easy, but I did it. By this time Chad has been standing in the sun for a good 45 minutes and we still have 20 miles to get to where he is. Added bonus is that he went to country thunder this weekend and got really bad sunburned so just being out in the heat hurts. The majority of his body hadn't seen sunlight the whole time in Afghanistan. So we get to where he is broke down and we load up the motorcycle and he ties it down with ratchet straps. On the way home I hit a significant bump and the bike falls over in the trailer totally cracking the fairing. UGGG! I feel just terrible!
Other random icky things...
Chad was changing his shirt before he left tonight and his chest and back are completely blistered. Looks like water blisters times a million. I took pictures but it looks so gross. Makes me throw up in my mouth....Shudder...
They got all the wood out of Mark's hiney/leg. Now he has a major infection. He says it hurts worse now. They put him on antibiotics.
Cole missed church on Sunday and 2 days of school this week. He's had a cough and runny nose, plus Sunday morning he woke up with these awful and equally gross cold sores from his lips clear up to his nostrils. We've been putting abrevia on several times a day. He says he's not going to school tomorrow either because kids will make fun of him. I'm not sure what school policy is on icky cold cores, so I'll have to call in the morning. I need that boy in school if at all possible!
I teach this Sunday, so the stomach aches are back. I've been studying and preparing.
There is so much on my plate this week. I'll be glad to see Monday come around. I do love my Mondays!
Enough about us.....How are YOU?