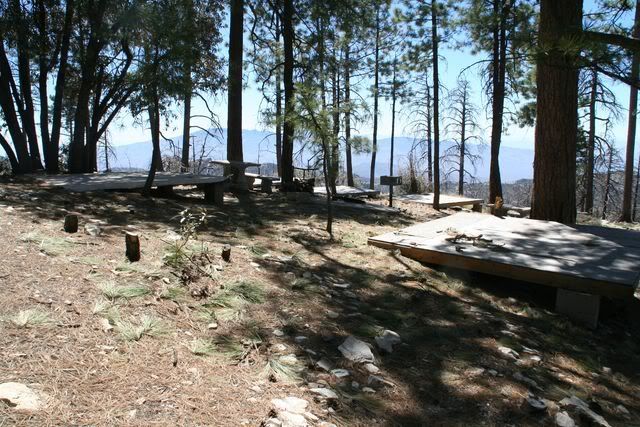 This past Saturday I went to the girls camp to check it out. We took pictures and sort of got a game plan on where needed to be decorated and how we wanted to do things this year. The square wood platforms are where each tent is put on. There are about 12 of these little groupings scattered all over the camp. We got to tour the whole thing and let me just say I AM SERIOUSLY OUT OF SHAPE! I was huffing and puffing while climbing up mountain trails. It was a real eye opener....and not a happy one. Thoughts passed through my mind as the others hiked effortlessly around me and I was gasping for breath. We were only there for a few hours and all I could think was I'm going to be up here for 5 long days in the middle of summer. I'm surely going to die on the Mountain. I hope they plan a nice memorial service for me because there is no way in heck I'm going to survive this one.
See the little building the ladies are standing around? That my friends is an outhouse. There is nothing to flush in there. Nope! I'm fully aware of the irony that I have a cute outhouse bathroom in my house and I'm whining about an outhouse, but my toilet flushes. I appreciate the ability to flush. Flushing is good. Flushing takes away bad smells. What will I do at night when I have to take one of my numerous trips to the bathroom? Mountains have lots and lots of bugs and I can't see them all in the dark. Panic has set in. I fear I'm going to come home with a kidney/urinary tract infection from holding it in too long and I know I will be sleep deprived and physically exhausted. I've already informed Mark that he WILL be driving up to come get me on day 5 because I will not have the ability to drive home alone.
This cute little

ramada

is my one true perk. This is where the "craft shack" will be, therefore I will be spending all of my time there. So cute...I love it! I've designed my main craft and have plans for 2-3 small ones. I'll share those as I get the samples made.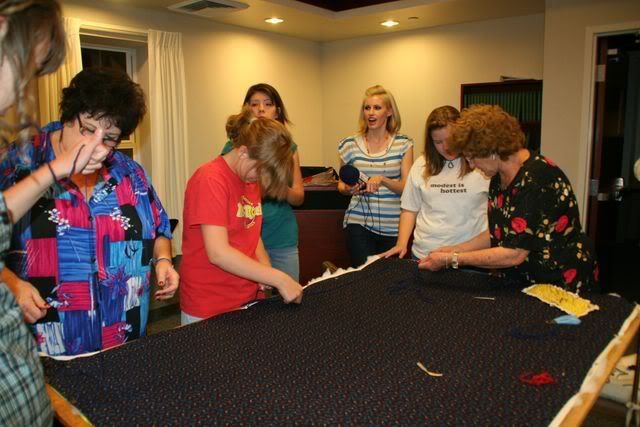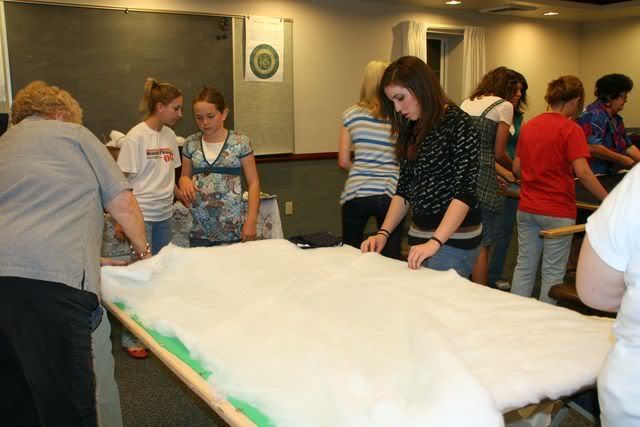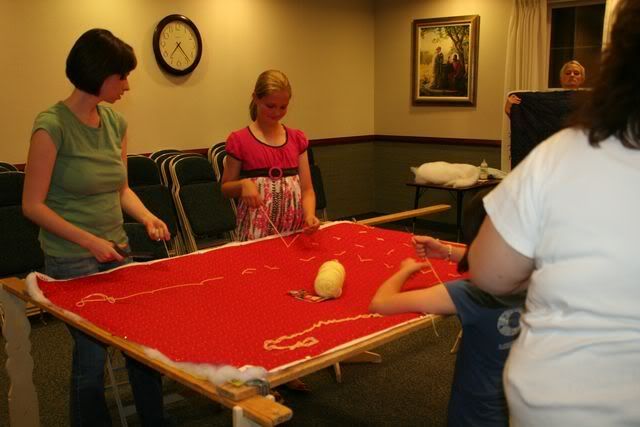 Tonight we had the girls tying camp quilts that they will lay over their sleeping bags. You can't tell from the pictures, but the fabric has little stars all over it to go with the theme. They still need to be bound, but at least they are tied. The girls did a great job and we so appreciate the teachers who came and taught them how to do this. I think it's a great skill to learn. Their little camp quilts will be a keepsake for many years to come.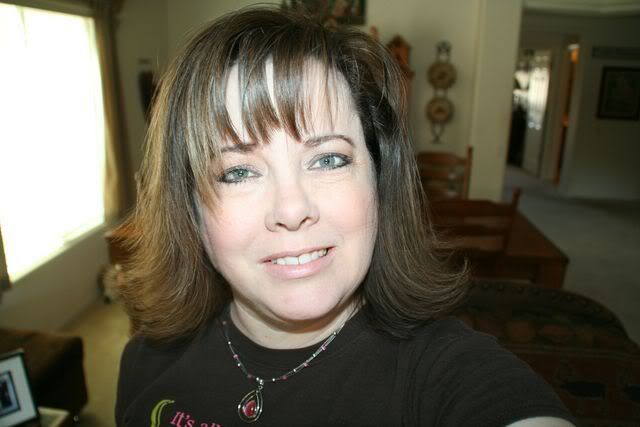 Okay...so I got my hair cut last week and covered the gray. Actually I'm already getting some feisty little gray hairs peeking back though. They seem to like me so I'll have to learn to get along with them. I cut all the dead off the bottom...which is quite a lot, but now my ends look healthy instead of fried and sparse, so I'm pretty happy with it. My hair is a bit

tousled

in the picture. I just got home from running an errand and it was real windy outside.
Why is it that teenage girls can take their own pictures and they are cute, but a 40 year old does it and she looks dumb? :o)
Happy Thursday!