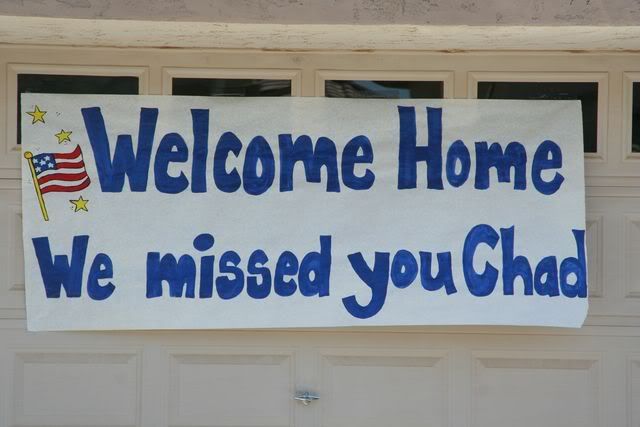 Me, Mark and Cody painted a welcome home sign late Friday night for Chad and hung it on the garage door. (Actually, it's still there) Chad got a big smile on his face when he saw it. :o)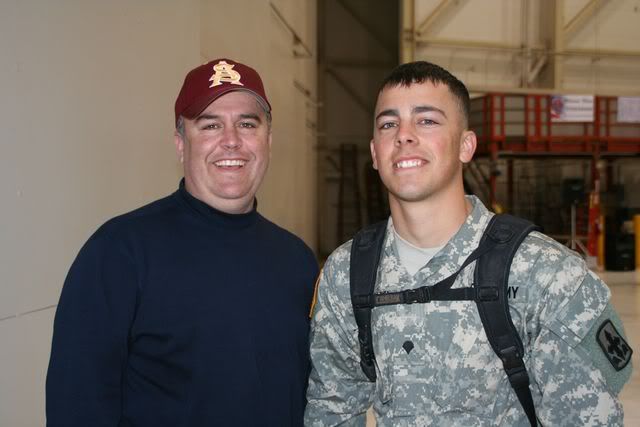 Pictures taken in the Army National Guard hanger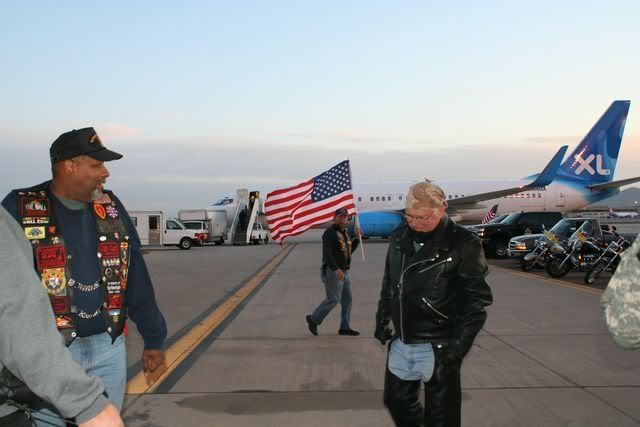 I loved this shot of the plane with some of the patriot guard members who always welcome the troops home as well as send them off.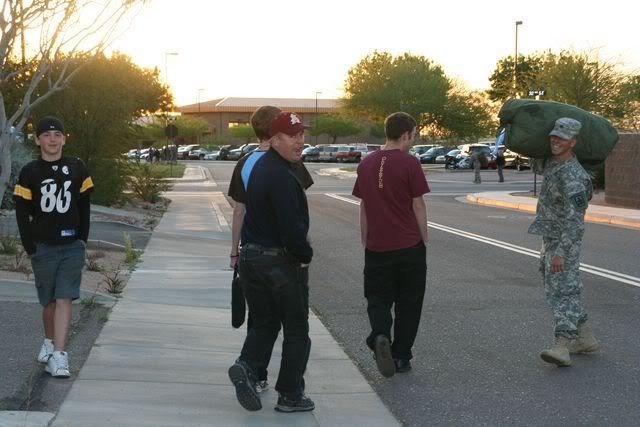 Chad wasted no time in finding his bag so we could get out of there. All the bags were soaking wet from sitting in the rain in North Carolina.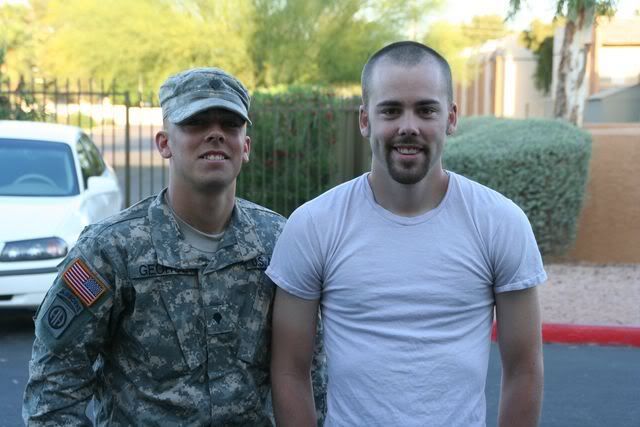 We went straight over to Brek and Brittany's apartment so they could see Chad and because we had one one Chad's motorcycles waiting there for him. He really wanted to ride one home.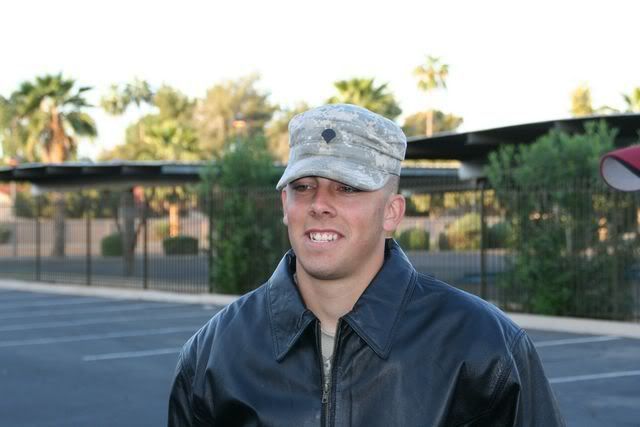 He's just so cute!
Wearing one of Mark's helmets. He has since bought his own "cool" helmet.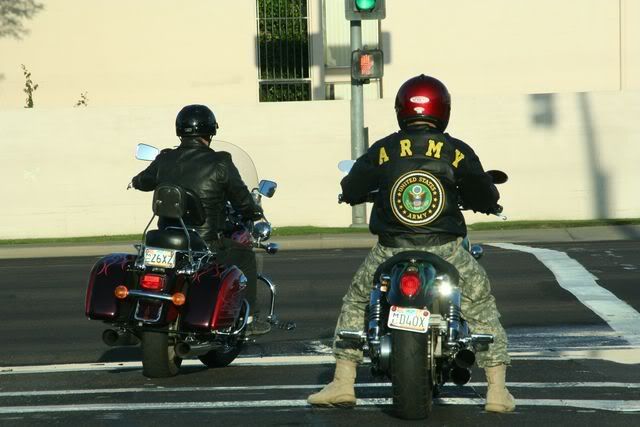 The 10 of us went to breakfast together before heading home. It was nice having the whole family together. The days since his arrival have passed so quickly. Sunday we had a packed full house of family and friends over for dinner. I believe there were around 46 people total that day. It was crowded, but fun and nice to have everyone come to welcome him home. I know he appreciated it. We made tacos, chicken enchiladas, pudding cake and Texas sheet cake. All things he loves! His first two days home he had to spend half the day at the base. Monday we went shopping and he bought a bedroom set and a new mattress. On the way home he found a car for sale on a street corner and bought that too. It's a 98 Ford Mustang. It was a great deal and he figured he really should have a car since most girls are not going to want to go on dates on the back of a motorcycle. Tuesday he had errands during the day and he met the Star Riders group at bike night. It was a lot of fun. He spent the night at a friends house that night. Wednesday was more errands, catching up on sleep and he went on a ride with some of his Army friends. Today we went to town to pick up his new bedroom furniture. Crammed it all in Kyle's truck and my car. We have some assembly work ahead of us....perhaps tomorrow. Really the past few days are a bit of a blur. I've been so busy from morning to bed time. Still feeling sleep deprived. We did a really fun activity last night for a combined young men/young women at my house. I'll blog it next time. Oh...I got my hair cut and colored on Tuesday. First time since June 19th of 07. I've been butchering my own bangs since then to maintain it. Mark couldn't ever tell a difference. I sure can. It looks and feels healthier. I think he should appreciate that I'm a low maintenance kind of girl. :o) Chad is sad I colored over my big gray streak in my bangs. He was calling me Roage from X-men. LOL! I told him not to worry. Not all the gray took the dye and that is the first place it comes back.
***Edited to add***
I've received a few emails asking about what happened to Chad and Sandy. Apparently they missed the post about him breaking off the engagement back in November. I figured I better mention it again in case some others were wondering the same thing. She turned out to be not the nice girl she once was. You can read about it by clicking on the November 2007 archive and scroll down to Thursday, November 22nd titled Thanksgiving and stuff. If I was a way cool computer smart person I would link the post, but I don't know how, so you'll have to click and scroll. She has gotten much worse since that post. Pretty only gets you so far. It only confirms it was the right decision for Chad and our whole family.