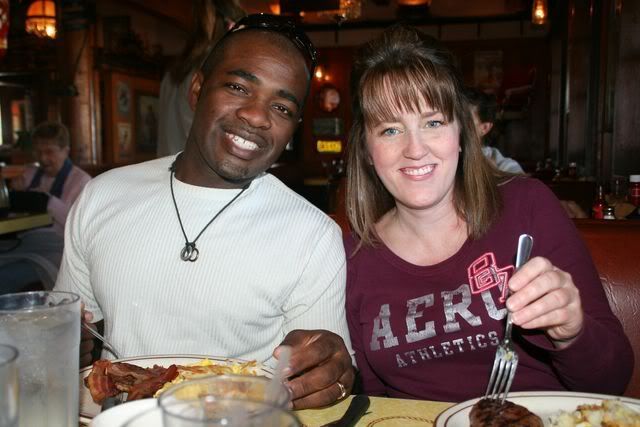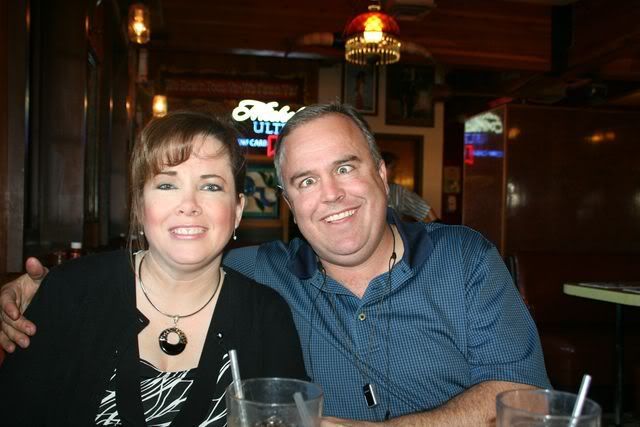 Friday Mark took the day off and we went to the home and garden show with my sister Coleen and her husband Eric. We started out at Bill Johnson's for breakfast to fuel us up for the long day of walking. Yes, I realize Mark's eyes are crossed in the picture. One day maybe he'll wish that he didn't look like a goofball in the majority of our pictures together, but I doubt it.

Every year we sit in these swing things and have yet to buy one even though they are really comfortable. To be honest we are so busy all the time, who has time to sit outside and relax in a swing. One day I hope to do that...but I hope when that day comes my backyard will be beautiful so I can enjoy it instead of looking around thinking those boys really need to get out here and clean up this mess...or it sure would be nice to have grass and flowers and perhaps even a tree with leaves and everything. ahhhhhh...one day.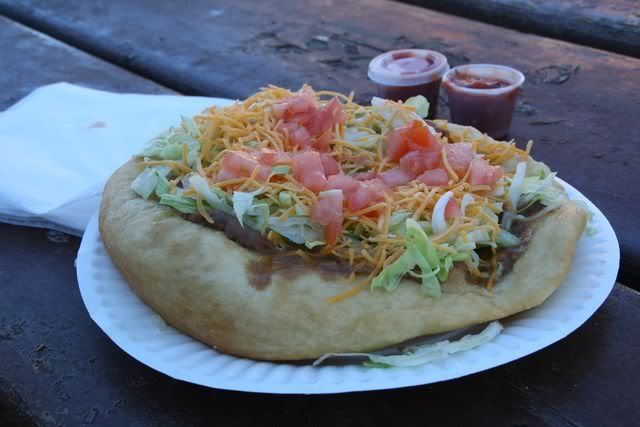 Now this my friend is THE reason to go to the home and garden show. Seriously! I go for the Indian fry bread and we earned it from the many miles we walked. This pretty one is Mark's. Mine was just bean and cheese. Less pretty, but very tasty.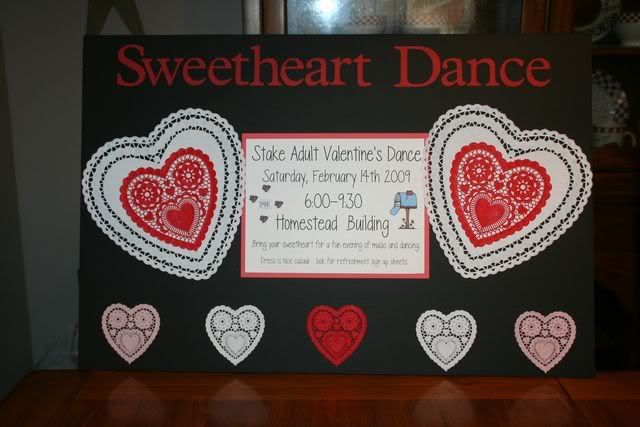 After the show I met up with my girlfriends from the star group for scrapbook night. I didn't get to work on scrapbooks though because I had to make 4 posters for a sweetheart dance. Miss Mindy let me use her Cricut machine to cut out the letters. Very fun tool indeed!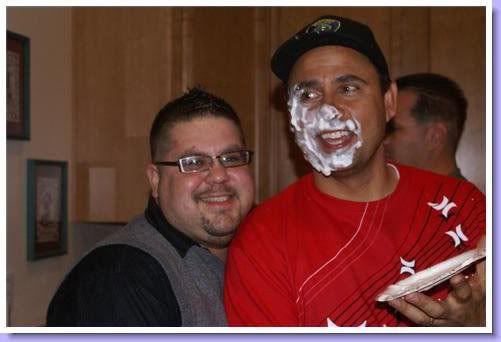 Saturday night was our good friend Hal's birthday party. We ate and played fun games. Hal got a little pie to the face at the end of the night. LOL! In total there was at least 7 or 8 couple. A few left before Missie took the group picture. I forgot my camera so these are from Missie's.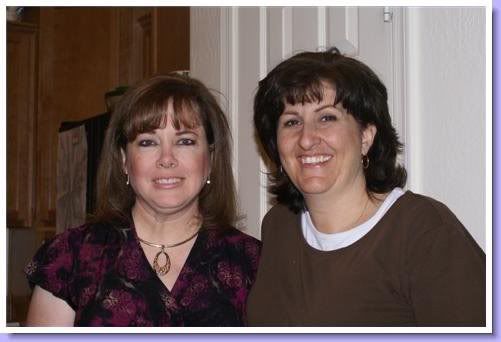 Me and my bestest buddy Missie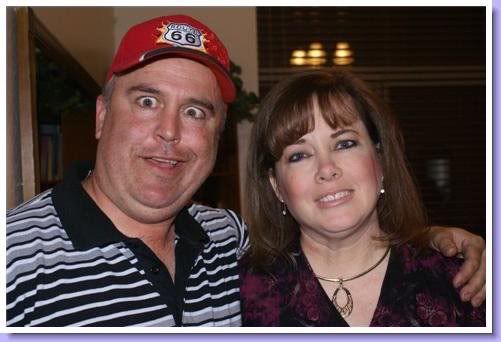 I swear his face is gonna stick like that. Dork!

Hal is a lot like me in the way his birthday is a big deal to him and mine is to me. I consider all of March to be my birthday month. Hal would count down the shopping days till his birthday, so we decided to play along with him and do a birthday rendition of the 12 days of Christmas for him. So every night he would get a delivery on his doorstep with a note and a gift. Here are what the notes said. I really wish I would have taken pictures of them. It was really fun to do.
On the first day till Hal's birthday, your true friends gave to you...a partridge in a pear tree...Sorry, but I couldn't find the partridge so we're giving you some pears from the tree the partridge flew away from.(Although your friends are true, they are late to start your days)
On the second day till Hal's birthday, your true friends gave to you...two turtle doves....unfortunately, I don't have any. Will candy turtles and a bar of Dove soap do?
On the third day till Hal's birthday, your true friends gave to you...three french hens....The french hens were not available, so we're giving you some chicken noodle soup, compliments of the three french hens.
On the fourth day till Hal's birthday, your true friends gave to you...four calling birds....I can't find those calling birds, so here are those 4 messages they left for you before they flew away.
You are the funniest person we've ever known. Humor comes so natural and genuine for you. It makes you so fun to be around.
You are the coolest darn Maricopa cop. So cool in fact, you got us out of a ticket. Not to mention all the people you help with real problems.
You are an awesome friend to us and so many others. You give of your self so freely. We are happy to count you as one of our dearest friends.
You're a great husband, father, seminary teacher and Priesthood leader.You lead by example and you're loved and respected. I think that is enough gushing. We can't have your head getting all big and huge.
On the fifth day till Hal's birthday, your true friends gave to you...5 golden rings....what, do you think we're made of money? We thought to give you pineapple rings but remembered your tongue swells up if you eat it, so ring pops were the way to go! (He did in fact wear one of his ring pops)
On the sixth day till Hal's birthday, your true friends gave to you...Six geese a laying...you don't really want those messy geese running all over the house do you? How about some of the eggs they left behind? (We gave him cage free brown chicken eggs. That was as close to geese eggs as we were gonna get)
On the seventh day till Hal's birthday, your true friends gave to you...Seven swans a swimming...All of the swans have flown south for the winter.You know...Mexico! Here are the bubbles they used while they were swimming. (bubble bath)
On the eighth day till Hal's birthday, your true friends gave to you....Eight maids a milking.....Here is some of the milk we got from the maids. We're thinking they must have been milking some brown cows. Perhaps we should call Jimmy and ask him. (we gave him a gallon of chocolate milk)
On the ninth day till Hal's birthday, your true friends gave to you....Nine ladies dancing....those ladies danced the night away, but told us they keep up their energy by drinking this emergen C junk. Thought you'd give it a try.
On the tenth day till Hal's birthday, your true friends gave to you...Ten Lords a leeping....Those Lords were a bit too ambitious and pulled some muscles doing all that leaping around. A little Bengay will fix them right up.
On the eleventh day till Hal's birthday, your true friends gave to you...Eleven pipers piping....We know how you like to get all involved and be in the spotlight, so here's a pipe of your own. I'm sure you'll impress us with your skills. (We gave him a flute/pipe. Poor Missie had to listen to him practice on that thing. She's such a good sport.)
On the twelfth day till Hal's birthday your true friends gave to you...Twelve drummers drumming....sorry, no drummers. We thought you could use some quiet time, so here's a special treat we drummed up for you, so relax and enjoy! We hope you had fun with this and also hope you know how much we love you! (We baked him cookies, gave him a gift card to Chili's and an IOU on a Koozer family name board. I have it painted up, but my good friend Kim who does my vinyl had her sister pass away unexpectedly, so it's not the right time to ask her.)
Hal and Missie and even their boys had a good time during the 12 day of Hal. We really had fun doing it and we sure do love their sweet family. Our family had fun improving their stealth stills each night as we took turns dropping at their doorstep and running.