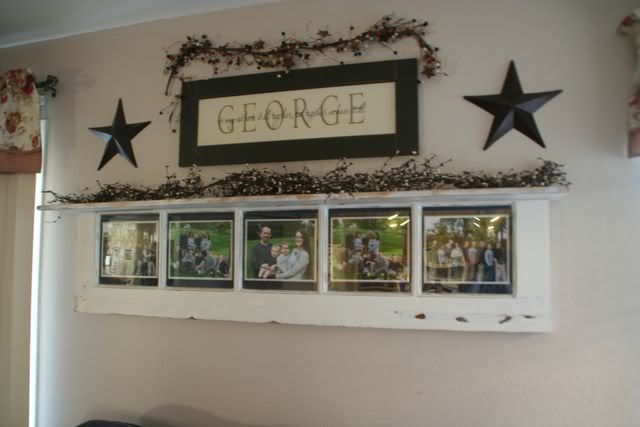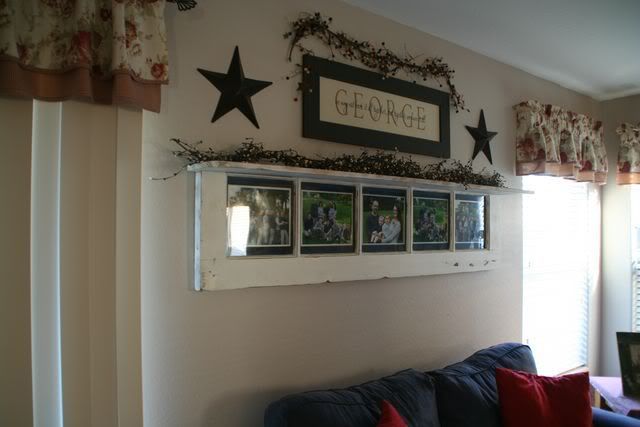 We took down the frame and stuff when we painted the walls and it never got hung back up since it was full of old pictures. I finally printed the most recent family pictures and put them in the frame. Boy is that thing a bear to hang. It's so heavy! The wall sure does look good now. I was so sick of looking at a naked wall. Anyone who knows me knows I have NO naked walls in my house. They are all FULL!...Just the way I like it!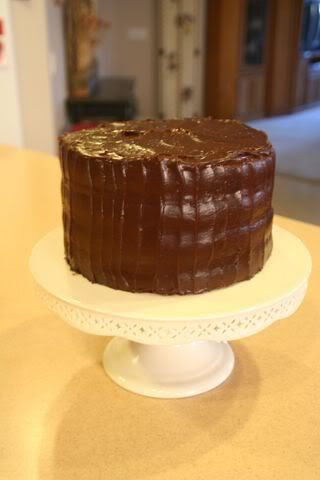 Look what I baked today!!! It was SUPPOSE to be a mondo huge 6 layer cake. It's the Chocolate Motherload cake recipe from the Claim Jumper Restaurant and it lives up to it's name. Problem is the frosting only made enough to cover 4 of the layers and I frosted it very thin in between each layer. The boys have been picking at the two left over naked layers of cake. Let me just say that boxed cakes are so much easier and TONS cheaper, but I'm excited to have me a big ol' piece of this cake tonight. I made it for a visiting teaching conference at the church. I hope the ladies love it!
Cole had his first game of the season on Saturday. He ended up with two friends on his team, Preston and Dane. They won 13 to 12. It was a VERY intense game. I'm pleased to report that Cole grew tired of his bleached out hair and ended up letting Chad dye it back to brown the other day. It looks lots better, but has a slight silver highlight to it. I think it's from too many chemicals in his hair. It's still better than the blond. These 3 boys are the only tall boys on the team. When I take pictures at the next game, I'll get the rest of the team. They are all so little.

Mark and Hal giving Emmett some some basketball pointers.


Oh my crud! It's almost time for me to leave and I'm so not ready. We have another way fun weekend ahead of us so I plan to bring the camera along.
Typos are a given in this post. No time to edit!
Ta-Ta for now.