Sneak peak of my mess of boxes. I've unpacked about 16 of the 41 in my scrapbook room. I got the walls in here finished. It's really hard to see the color in this picture because it's night time. If you look closely through the boxes you can see the little bookcase. I built that all by myself and it had parts I have never seen before. I had a couple little parts left over and I know that's not a good thing, but it seems to be holding together pretty well so I feel good about it. I put 4 baskets in it and I plan to organize my wood mount stamps into those....like holidays, alphabets, words, flowers etc. I just hope they all fit. I'm hoping I will be able to use them more this way since it should be able to find the ones I want to use a little easier. I've got my big bookcases almost completely loaded up. It's looking good so far.

Cole had his pinewood derby Tuesday night at our old ward. We wanted him to participate there since it's his last one. Mark's brother Spencer helped him make it this year since I was out of town and couldn't do it. I so appreciate all his help. Cole won 3rd place out of 18. He was so excited to get a plaque. I know he's not wearing his scout uniform. It's in a box...somewhere.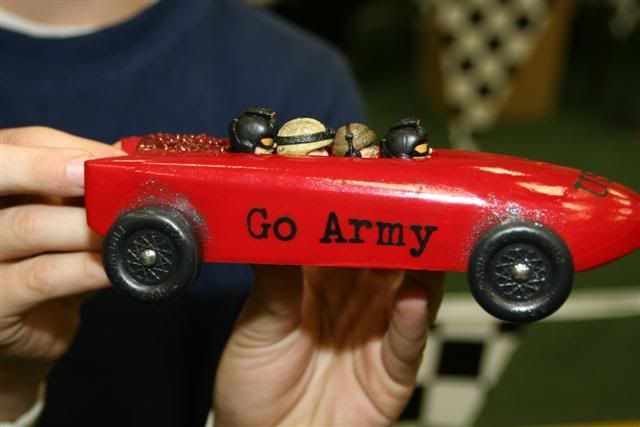 This is the one me and him made last year and won 4th place with. It was a "Go Army bobsled" We still has Spencer's help getting the wheels just right with it. He's just really good at that.

While I was painting my scrapbook room yesterday we got a pretty good rain storm. I love it when it rains...as long as I don't have to drive in it. This is from my porch. Mark calls our neighborhood the "sea of sameness" because everything looks the same here. He is not adjusted to living in a track home neighborhood yet.The houses are really close together too. I'm pretty sure that if I was the kind of girl who spit I could open my window and hit the house next door....good thing I don't do those sorts of things.
Well I better get...have to unpack more of the kitchen. I'm making food for 50ish people on Sunday for our friends son who just got home from his church mission and there are important cooking things I need still in boxes in the garage. Saturday will be spent making food, then going to the old ward on Sunday for his homecoming, then to their house for the luncheon, then back to Maricopa by 3:00 so that we can go to our new ward. I don't think I've ever been in a ward that started that late....feels weird! I sure hope it's a nice one.