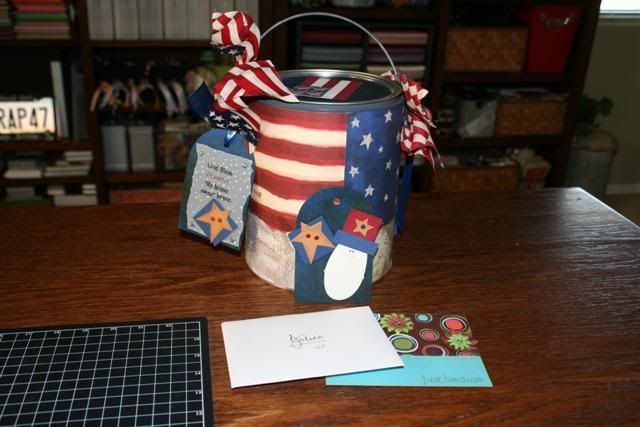 Do you know how happy I was this morning to discover that happy mail does indeed come clear out to the little town of Maricopa. I got a little teary eyed to find

3

packages sitting on my front porch. All 3 were sent to me for different reasons.
Heather
made me this adorable Americana altered paint can just because she knew I've been going through a lot and could use some cheering up. I love it and will display it proudly.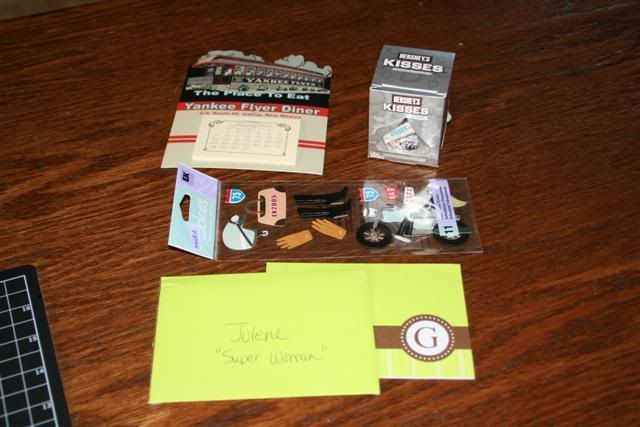 Then I opened the box from
Missy
. She sent me a motorcycle chick Jolee's that I have never seen before, a cute little calendar, and some chocolate just to celebrate spring. How sweet is that?!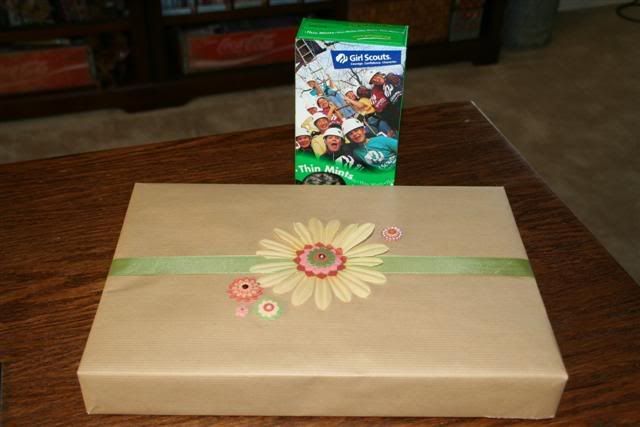 Then I opened a box from
Amy
. Inside was thin mint cookies (which I have already started eating...I couldn't help myself), and a beautifully wrapped package you would have thought a professional had wrapped. I of course had to take a picture before I tore into it. To my surprise she sent me that amazing chipboard pack she had talked about on her blog (that I did not win), a making memories letter "J" to alter, all nestled around my most favorite candy cane kisses! This package was for my birthday. All 3 of these sweet girls gave me cards with thoughtful messages inside. Now who could possibly have a bad day after all that? Not me! My day is going to be great. Getting ready to clean the kitchen with a smile on my face. Tonight I'm feeding dinner to our good friend Nick and his 3 boys, then I'm taking pictures of all of them with their dog so they can have some pictures before all his boys are off to college and missions. Wish me luck!
Thank you so much sweet friends. Happy mail really does make you happy. Love you girls!
I really do plan to catch up with everyone. My site meter count has dropped since I've been so busy and I totally understand why. I know I've been a bad blogging buddy and promise to do better once I have essential things done to make everyday living around here a little easier. There is still so much to unpack. I will be posting pictures of my scraproom as soon as Mark mounts my TV on the wall. I really love this room.