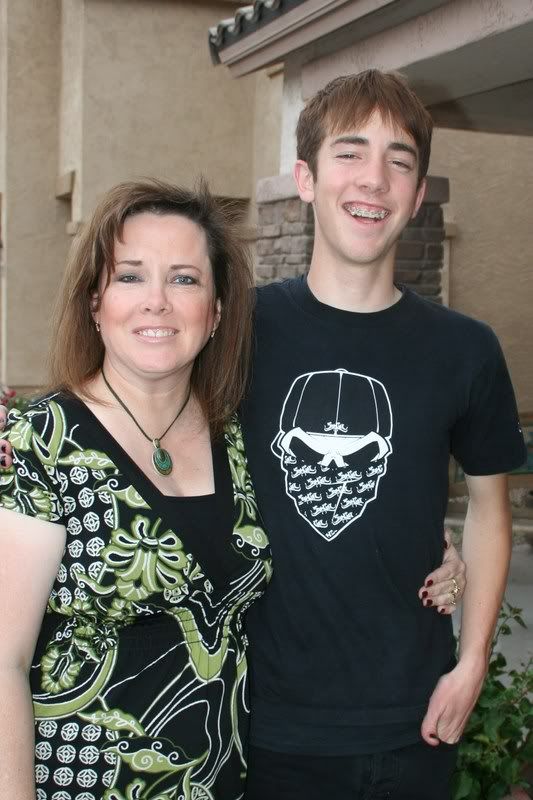 My Cody boy turned 16 today. It seems so strange because he's always been one of the "little boys" Brek, Chad and Kyle were always the "big boys" and Cody and Cole were the "little boys" It's really hard to re-program my brain to think otherwise. He's now of driving age, but has yet to really push the issue and I'm sure as heck not going to bring it up. I'm holding out for as long as possible because I'll be danged if he's going to drive my car. Isn't that a terrible mother thing to say?! I've been through it enough times now so I've earned the right to be concerned and protective of my car. Before I went to town I took him lunch at school. He was thrilled! Who knew taco bell and gatorade could make a kid that happy. :o) We got Cody a pair of converse shoes because he requested shoes that "didn't talk". Translation...One's that weren't split open so you can make it appear to talk with your hands. We also got him a quiver to hold his arrows, finger tip gloves for shooting and an arm guard. A few months ago Cody made his own long bow in scouts. He worked so hard on that thing and he's so proud of it. Archery quickly became his thing. He practices all the time. Last weekend he went on a big scout camp out and one of the competitions was archery. Out of 500 boys he was #1!!! How freaking cool is that?! He ended up coming home with a kids watch and another kids hatchet. Turns out he bet them he could pierce the ear of the deer on the target. Sure enough he did it both times. I felt bad that he took their things, but I wasn't there to make him give them back. He said "it's okay, mom. They were going to trade them anyways."....Whatever!
Anyways...I love that sweet TALL boy that still hugs me and tells me he loves me every single day. Makes me happy!
Happy 16th birthday Cody!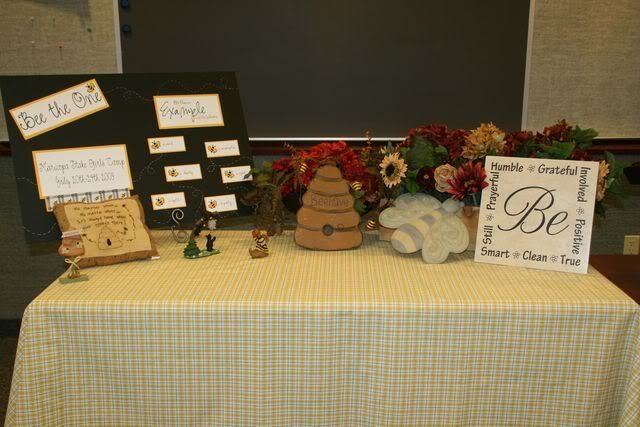 I totally forgot to post about the camp kick off meeting. I so love this years theme.
"Bee the One"
Don't you love it!
The scripture we are pulling from is 1 Timothy 4:12
"Let no man despise thy youth; but be thou an example of the believers, in word, in conversation, in charity, in faith, in purity."
Really think about that scripture. It contains a pretty powerful message. I just love it. We want each and every one of the girls to know and believe that they have the power and ability to make a difference in this world. ONE person can indeed make a positive impact in the lives of others. I've always tried to be that kind of person. I certainly make mistakes, but I feel horrible when I do and I try to be better. We have a terrific group of girls in my stake and I know the spirit will be strong at girls camp this summer. Their testimonies will grow and their desire to grow and make a difference will be a wonderful thing to watch. I can hardly wait!
For the meeting I made the poster and set up a table scape in a cute bee theme. They all loved it. As you know, I'm the craft director again this year. My next task is to come up with 3-4 craft projects EACH for up to 150 girls that go along with the theme that I can teach at camp. Plus come up with decorations for the entire camp. It's a BIG job on a LITTLE budget. I'm going to have to be really creative! I've been looking for my creative mojo. Have you seen it? I'm sure I'll find it around here somewhere. Perhaps I need to clean up my office to find it. Hmmmm...