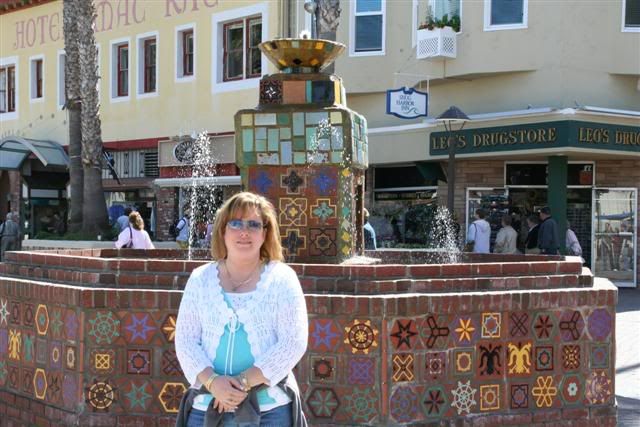 Since I wish all my children, family and friends happy birthday on here I thought I would do the same for me. Today I turned 38! Seems so young, but at the same time THIS is the age I'll be when my first grandchild is born. I'm getting more excited everyday about it. September seems so far away, but it will be here before we know it.
This picture is from when we were on Catalina Island. I sure love it there. It was so pretty! Notice the picture is a far away one because I've noticed the weight gain everywhere...especially in my face. Where is my jaw line? I am so going to work on this harder. I really need to boost my self esteem and feel better.
Today I woke up to flowers and presents from Mark. Actually first I woke up to Mark squeezing my behind like he does every morning then I came in my scraproom to find flowers and presents. He got me a ring and a necklace. They are beautiful and that was very thoughtful but we REALLY can't afford any extra stuff right now. He swears they didn't cost much. I hope he's right. I do love them. I pray there is money in the mail tomorow. My boys all wished me a happy birthday and I got 38 kisses from Cole. He was very sweet! I had a lazy morning and talked to friends and family on the phone who called to wish me happy birthday. Then I went to lunch at Olive Garden with 9 of my friends. We had a great time talking, laughing and of course eating. They sure are some real nice girls. Thank you Paula, Natalie, Laura, Jamie, Jenny, Joyce, Teresa, Jeanette, and Pam. I had a great time. I came home and did some stuff for the business then took a little nap. Tonight I went on a girls night out with all of my sisters, my mom and Brittany. We has dinner at Tia Rosa's...which we all love and then went to see the movie Failure to launch. It was a funny cute movie. My mother fell on a step in the theatre. She hurt her knee and jammed her fingers pretty bad. I hope she heals up quick. Brittany survived an evening with the "old" girls who talked about silly "old" girl stuff and I think she even enjoyed herself. Mark is out riding with his friends and we are going to celebrate tomorrow together. Actually several months ago when we got the new truck they said we would be getting a $500 gift card to Lowes and that came in a few days ago. I love free shopping. I think we are going to get a new freezer and hopefully if there is anything left, maybe a little something cute. I'm ending now while I still have a few minutes of my birthday left....you know what?! It doesn't matter! It is my birthday MONTH after all! :o) LOL!