March is always so busy in our family. It's full of so many fun things....too many to mention. but I will mention that it is my birthday MONTH. In fact I had my birthday on Monday and I was spoiled properly for many days of gift giving. Mark even got me a new scroll saw because mine died. I've already used it too. Love it! Our 23rd wedding anniversary was on the 8th. I woke up to roses, balloons and breakfast in bed. So nice!
I thought I'd share a little blast from the past. These are our senior pictures, which is also the year we were married. I know....babies! Fun to see though....even with the permed hair and blue eye shadow. I loved the 80's! Ahhhh...Good old days!
These signs for girls camp is what I got to use my new saw on. Cute stuff, huh?! I cut, Missie sanded and base coated, then I did the words and all the detail painting then pt them together. We made a good team. Going along with the bee theme, each level is a different color and name. I haven't finished all of them yet. The stake staff (I'm one) are the "queen bees" the priesthood men are the "bee keepers" then I have to make signs for locations around camp. I can't wait to get them all done. I did get these ones all finished and put on stakes so that the girls would know where to go tonight during our first aid clinic. Missie did an excellent job putting the whole night together so the girls would be certified before camp. They all went to different classes. Some taught by nurses and others taught by firemen. As you can imagine, teenage girls really like having the firemen around. Missie did all the hard work. I just brought the signs and cutely packaged up brownies that she made as thank yous for the firemen....you know...the frivolous fun stuff. :o)


After the classes they had rooms set up as "save a ycl" (youth camp leader). Each room had girls who were pretend suffering from different problem that the girls had to help with. I had to laugh when I saw Caitlin had been attacked by a bear...as you can see by the size of him, it must have been quite the fight. I don't know if she'll fully recover. LOL!

The Skousen family was kind enough to offer plots of their farm land to families in our stake to plant a small garden. Best part is they plowed the land and they water it. All we have to do is plant it, weed it and harvest it. So great! Each family got 5 rows deep by about 10 feet or so. We planted watermelon, cantaloupe, cucumbers, squash, zucchini, tomato's and strawberries. I can hardly wait to see it grow. We did end up with 2 plots because the Masters wanted to share a plot with another family, so now we will share our garden with Brek, Brittany and the grand babies.
Most of what we planted were from seeds except for the tomatoes and strawberries.


Mark working hard to repaid the first row.
Koozer family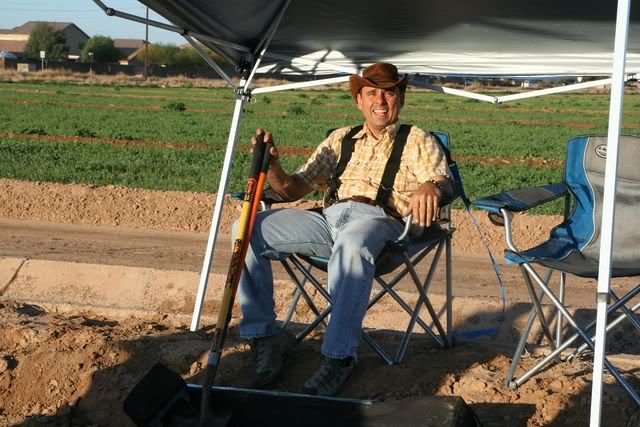 Hal taking on the roll of supervisor/spectator. :o) Just kidding Hal. Your whole family did a great job working together to plant your garden.


This picture makes me laugh, so I had to include it. It's like he's all pumped up or something. Tough guy! LOL! There will be more garden updates to come. I did buy wood so I can make cute garden signs. The morning we planted it was freezing. I'm sure to remember that day come this summer when we're weeding in 115 degree heat here in Satan's summer home.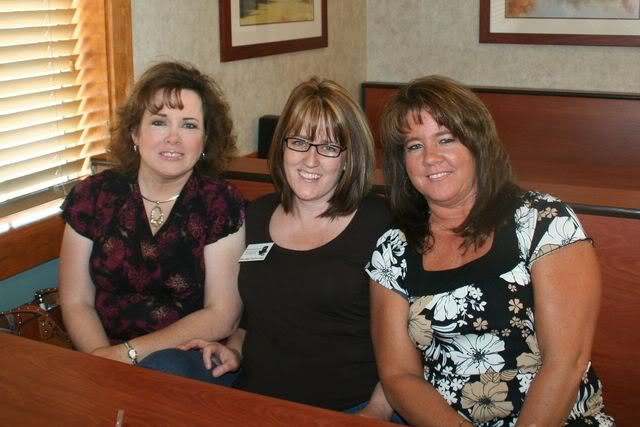 I also got to enjoy a fun sisters day of lunch and a movie with 2 of my sisters, Coleen and Julie. Rene' always misses out on the fun because of that darn thing called a job!
Well...it's 1:00 a.m. and I don't get nearly enough sleep as it is, so I'm outta here! :o)